These sweet Banana Blueberry Muffins are made with ripe bananas and fresh blueberries. The perfect combination of banana bread and blueberry muffins!
Love blueberry muffins? Check out my classic Blueberry Muffins recipe OR my Blueberries and Cream Muffins!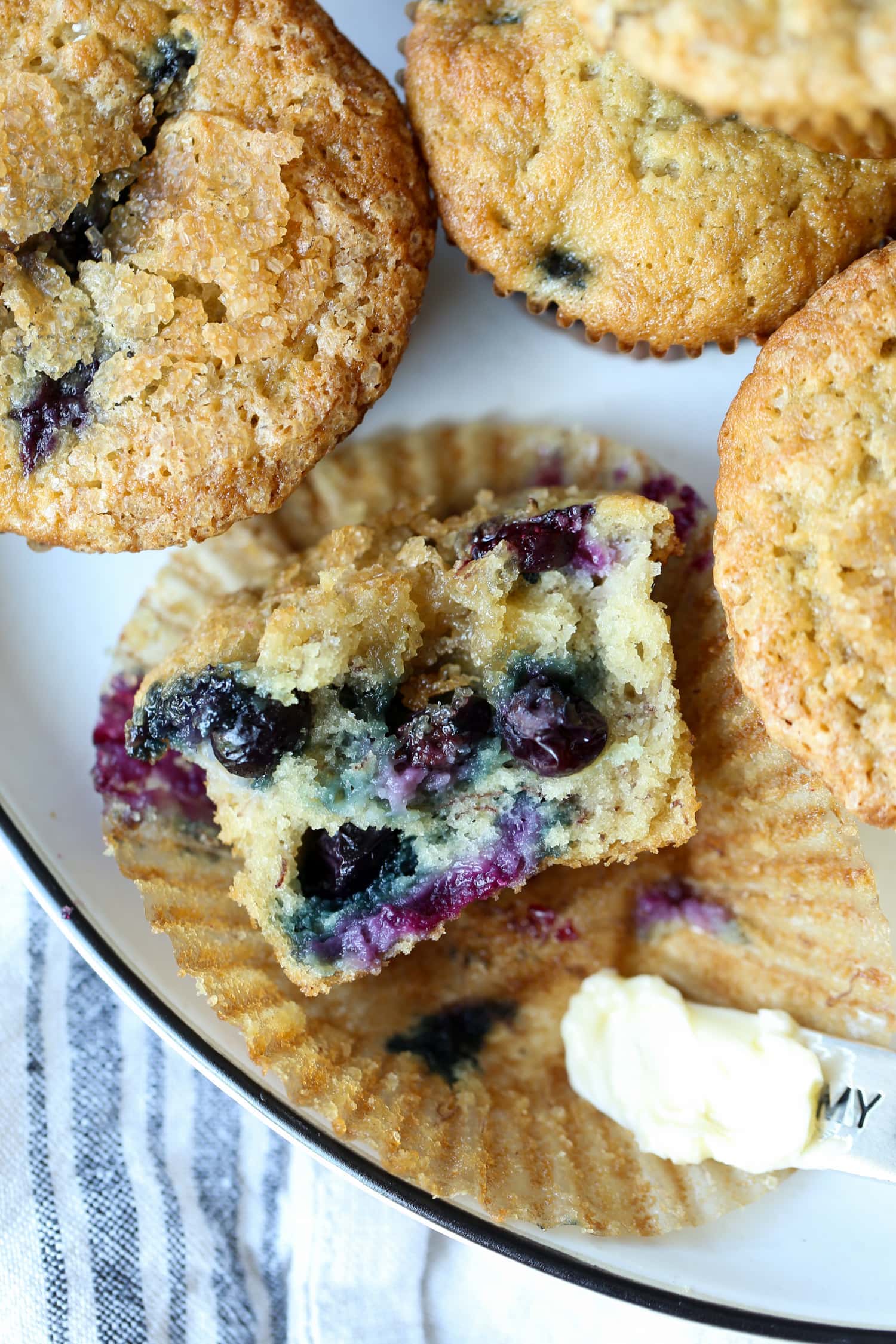 Crazy Moist Banana Blueberry Muffins!
Just when you thought Blueberry Muffins couldn't get any better, I went ahead and added in banana! Honestly, it was out of pure necessity, as I had some old bananas to use up, but it turned out to be a delicious discovery! Two of my favorites in one place: banana bread and blueberry muffins! These simple homemade muffins are perfect for make-ahead breakfasts, brunch, or just to use up some old bananas. The sweet blueberries combine with the banana flavor perfectly.
What Makes these Muffins so Good?
The texture: Extra moist and cake-like thanks to the combo of banana and sour cream
Ease of Prep: Just a bowl and a spoon, no mixer required!
Bake Time: 25-ish minutes
Topping: I sprinkled some coarse sugar on top for a little crunch, but you could make a streusel topping like on my Banana Muffins if you love crumble topping!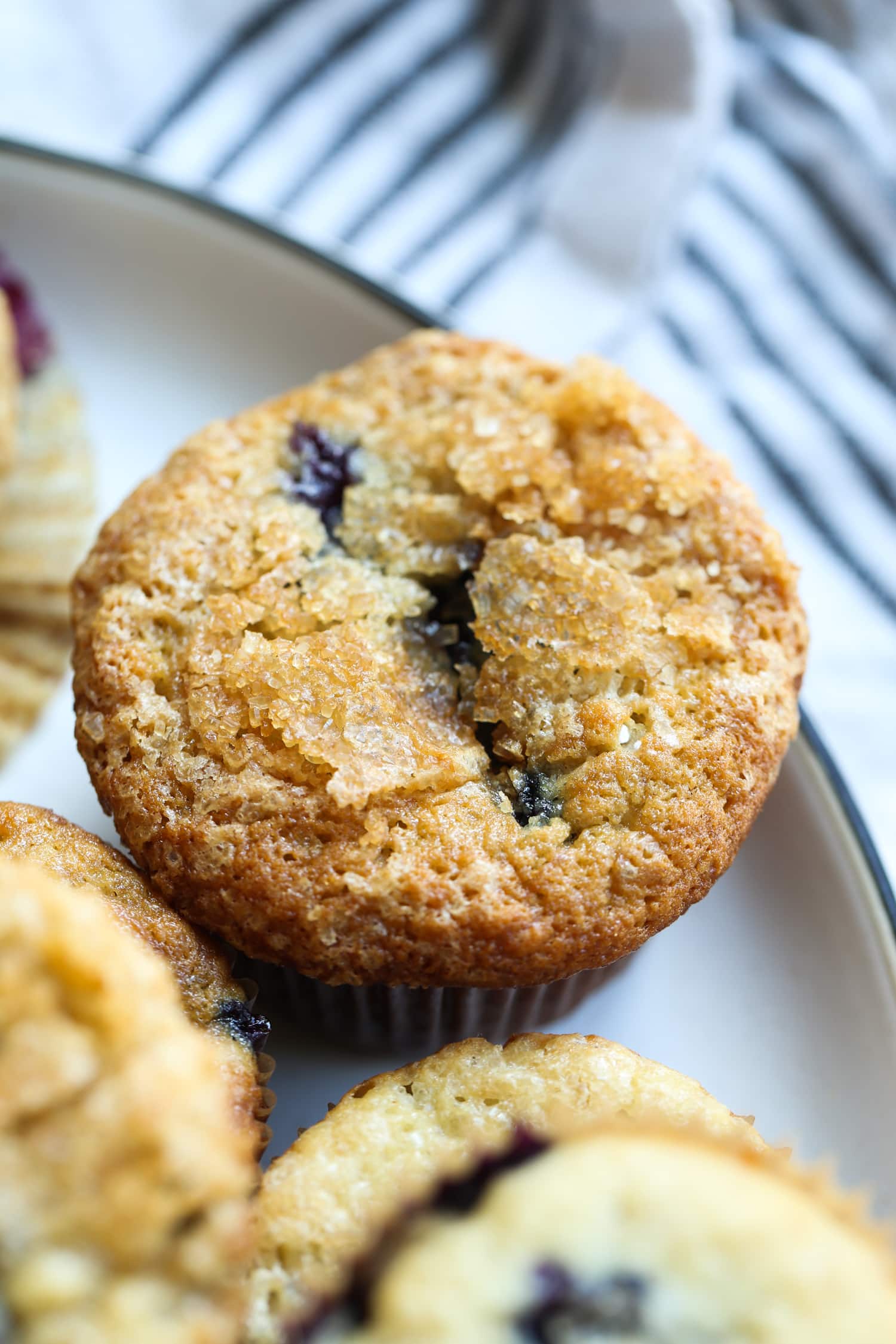 What You'll Need
Before we get started, let's go over the key ingredients. Here's what you'll need to make these blueberry banana muffins happen:
Bananas: The riper the bananas are, the better. Try to use bananas with lots of brown spots on the peel if you can.
Melted Butter: Salted or unsalted butter both work, you can mix in either.
Granulated Sugar, Eggs, and Vanilla Extract
Sour Cream: This makes these muffins super moist. 
Dry Ingredients: Baking Soda, Salt, All Purpose Flour
Blueberries: Use fresh blueberries if possible.
Optional: Add in coarse sugar for the tops of the muffins.
Can I Use Frozen Blueberries In Blueberry Muffins?
Sure! I like to use fresh – especially in the summer when they're in season and you can pick them yourself – but frozen will work just fine. Simply thaw them out and pat them dry so you aren't adding extra moisture into the batter.
What Can You Substitute For Sour Cream?
Don't worry, you can't taste the sour cream in this recipe, it simply imparts moisture to your muffin as well as giving it the perfect crumb. If you don't have sour cream, here are a few things you can substitute in this recipe:
Plain Greek Yogurt
Buttermilk
Creme Fraiche 
Regular Yogurt
How to Make Banana Blueberry Muffins:
What I love the most about making these banana blueberry muffins is that it takes around 40 minutes from start to finish, and then I have a bunch of make-ahead breakfasts ready to go. Muffins are always good to have on hand during the week because you never know when you'll need a quick, on-the-go breakfast.
Prep the Fruit: Rinse the blueberries and pat them dry. If you are using frozen blueberries thaw them and then pat them dry. Mash the bananas with a fork in a bowl and set them aside.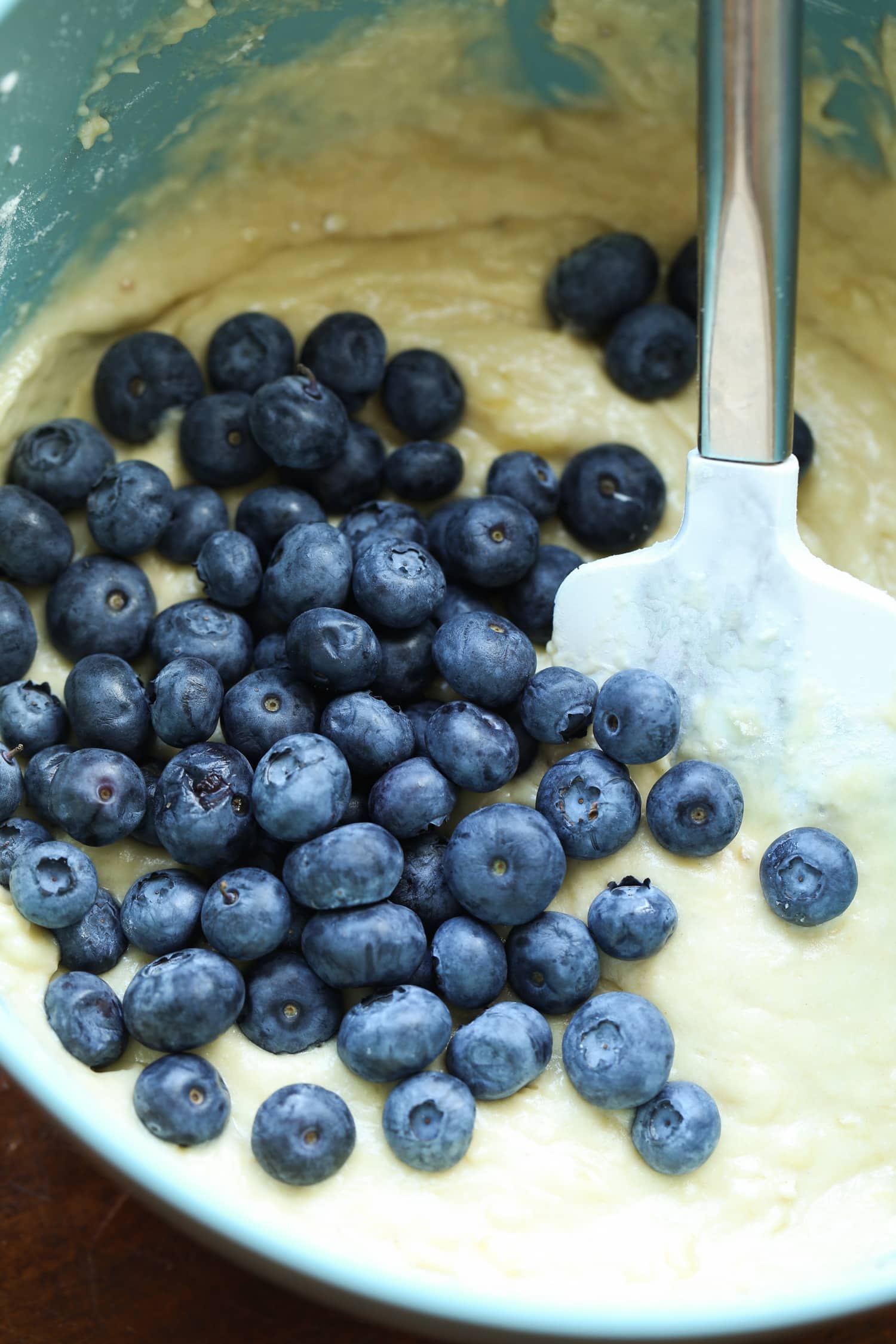 Make the Muffin Batter: In a large bowl stir together the melted butter, sugar, eggs and vanilla and stir until smooth. Next stir in the sour cream, mashed bananas, baking soda, and salt, and stir until blended. Then stir in the flour until just combined. Fold in the blueberries.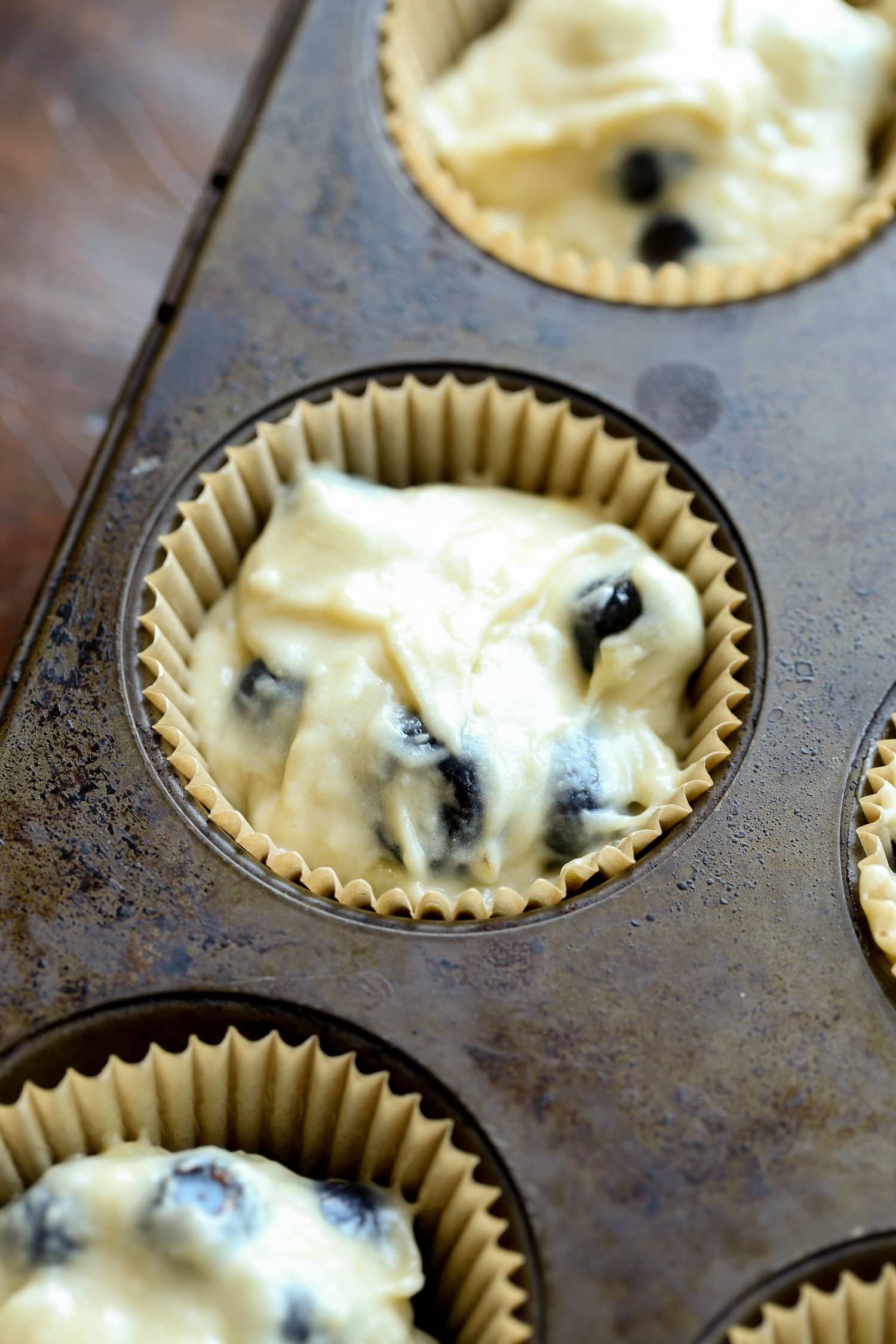 Fill the Muffin Pan: Line a muffin tin with cupcake liners and portion out 1/4 cup batter into each tin. Sprinkle a little coarse sugar on top for crunch. I use Sugar in the Raw. 
Bake: Bake for 25-30 minutes at 350°F, or until the muffins are set and a toothpick inserted into the center comes out clean. Allow the muffins to cool on a wire cooling rack and enjoy!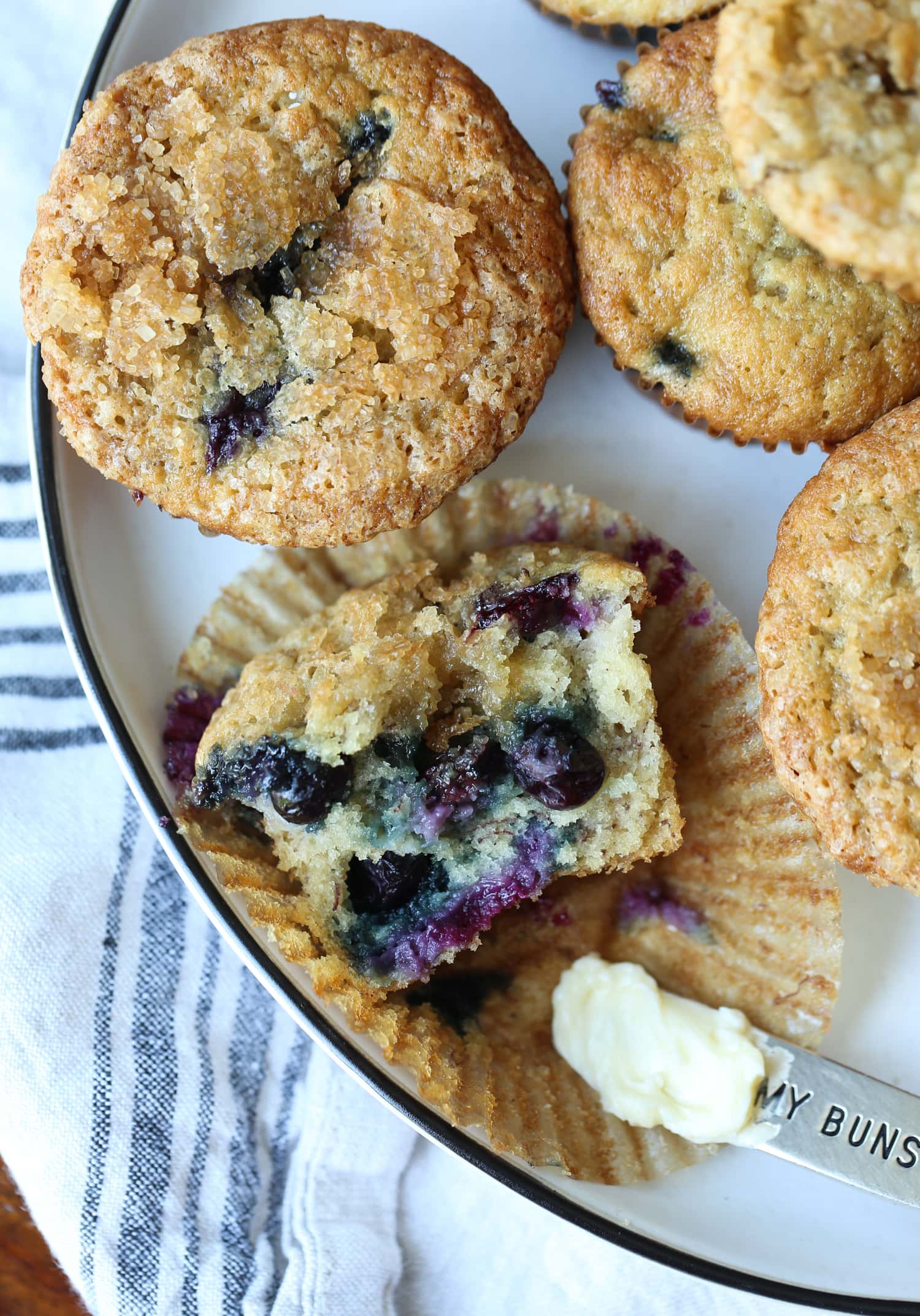 Do I Have to Use Paper Liners When Baking Muffins?
No, if you don't have liners you can coat your muffin tin with nonstick spray or grease with butter. I like to use cupcake/muffin cupcake liners because it makes removing the muffins from the pan easier, as well as helps keep them fresh.
Tips and Tricks:
Easy, right? These muffins come together in a snap, and they're done before you know it. Here are some tips that make prepping these banana blueberry muffins even easier:
Measuring out the batter: I love using a large ice cream scoop to portion out the batter into the liners. This ensures the muffins are all the same size, while making the process super quick! Once you start using a scoop you'll never go back!
Toss the Blueberries in Flour: If you're worried about blueberries bleeding color into the batter, or sinking to the bottom, toss them in a tablespoon or so of flour. I don't normally have to do this for muffins, but it's a step to take if it's a concern of yours.
Don't Over-Mix the Batter: Over-mixing the batter leads to dense and tough muffins instead of light and fluffy ones, so stir until everything is just combined.
Use Room Temperature Ingredients: Letting the sour cream and eggs come to room temperature is a good idea because everything will mix together more smoothly. There will be more resistance if you use refrigerated ingredients.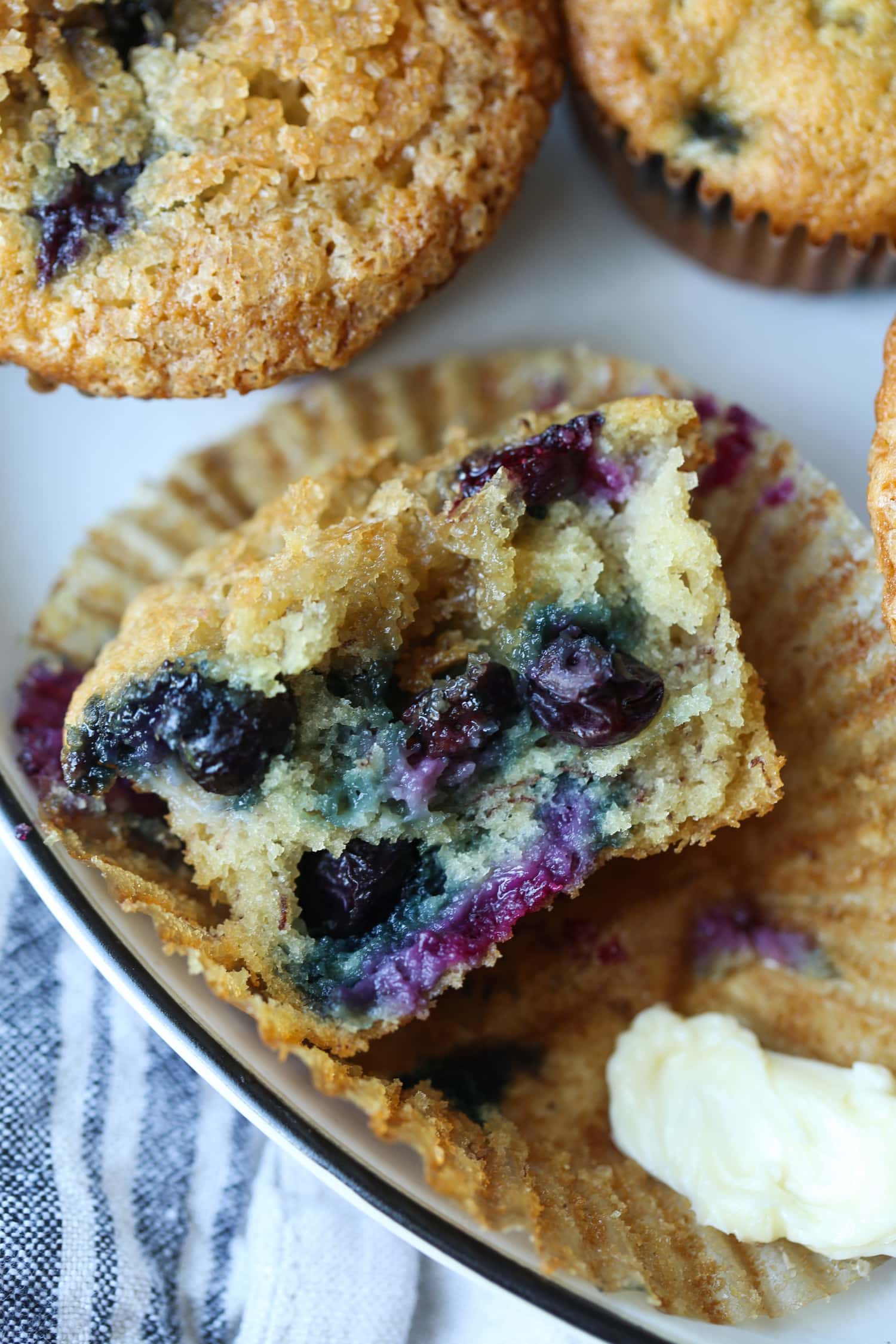 Variations:
These muffins are easily adaptable to suit your own preferences. Here are a few easy ideas:
Use any type of berry: blackberries and raspberries will work perfect!
Add in a little coconut! Just 1/4 cup will really add a nice flavor and texture, as well as some fiber!
Make them gluten free by subbing in a Cup 4 Cup-style gluten-free flour.
Make a crumb topping to go on top. Combine 1/3 cup granulated sugar, 1/3 cup light brown sugar, 1/4 teaspoon salt, 1/2 cup butter, melted, and 1 1/2 cups all-purpose flour. Sprinkle this on top of the batter before baking. 
Add chocolate chips. I don't know if I would do this with blueberries, but if I turned these into raspberry banana muffins, chocolate would be a delicious addition!
Add chopped nuts: 1/2 cup of chopped walnut or pecans in the batter would be delicious. Or add some sliced almonds on top of the muffins!
Storage/Freezing Instructions:
The best way to store these muffins is in an airtight container at room temperature – they'll last for up to 3 days. They will most likely keep for a couple of days longer in the fridge if you need to store them there.
To Freeze: Place the muffins in an airtight container or zip-top bag and freeze for up to 30 days for best freshness. Thaw them in the fridge overnight before eating again, and enjoy!
More Muffin Recipes to Try:
---
Description
Sweet Banana Blueberry Muffins are made with ripe bananas and fresh, juicy blueberries. These homemade fruit-filled muffins are a delicious make-ahead breakfast, and they're freezer-friendly, too!
---
3

medium bananas

1/2 cup

butter, melted

1 cup

granulated sugar

2

eggs

2 teaspoons

vanilla

1/2 cup

sour cream

1 teaspoon

baking soda

1 teaspoon

kosher salt

1 1/2 cups

all purpose flour

1 1/4 cups

blueberries
Optional – 1/4 cup coarse sugar for tops of muffins
---
Preheat oven to 350°F. Place cupcake liners in a muffin tin. Set aside.
In a medium bowl mash the bananas with a fork, leaving them slightly lumpy, and set aside.
In a large bowl stir together the butter and sugar. Mix in the eggs and vanilla and stir until smooth. Add the sour cream, mashed bananas, baking soda, and salt, and stir until blended. Next mix in the flour until incorporated.
Fold in the blueberries.
 Top each muffin with an equal portion of the coarse sugar if desired.
Bake for 25-30 minutes, or until the muffins are set and a toothpick inserted into the center comes out clean.
Allow the muffins to cool in the pan for 10 minutes, and then remove and cool on a wire rack, or serve warm.
---
Notes
Store airtight at room temperature for up to 3 days. Freeze airtight for up to 30 days.
Nutrition
Serving Size:
Calories:

272

Sugar:

26.1 g

Sodium:

228.9 mg

Fat:

10.1 g

Carbohydrates:

42.6 g

Protein:

3.8 g

Cholesterol:

54.7 mg
Keywords: banana blueberry muffins, easy banana muffins
Want To Save This Recipe?
Find more recipes like this:
PIN for later