I'm sharing 10 Easy Chicken Casserole Recipes that you can make tonight, to enjoy now or freeze for later! These are simple, one-pan chicken dinner ideas that anyone can make, and that the whole family will happily gobble up.
Love effortless chicken dinners as much as we do? Check out my 10 Easy Crockpot Chicken Recipes!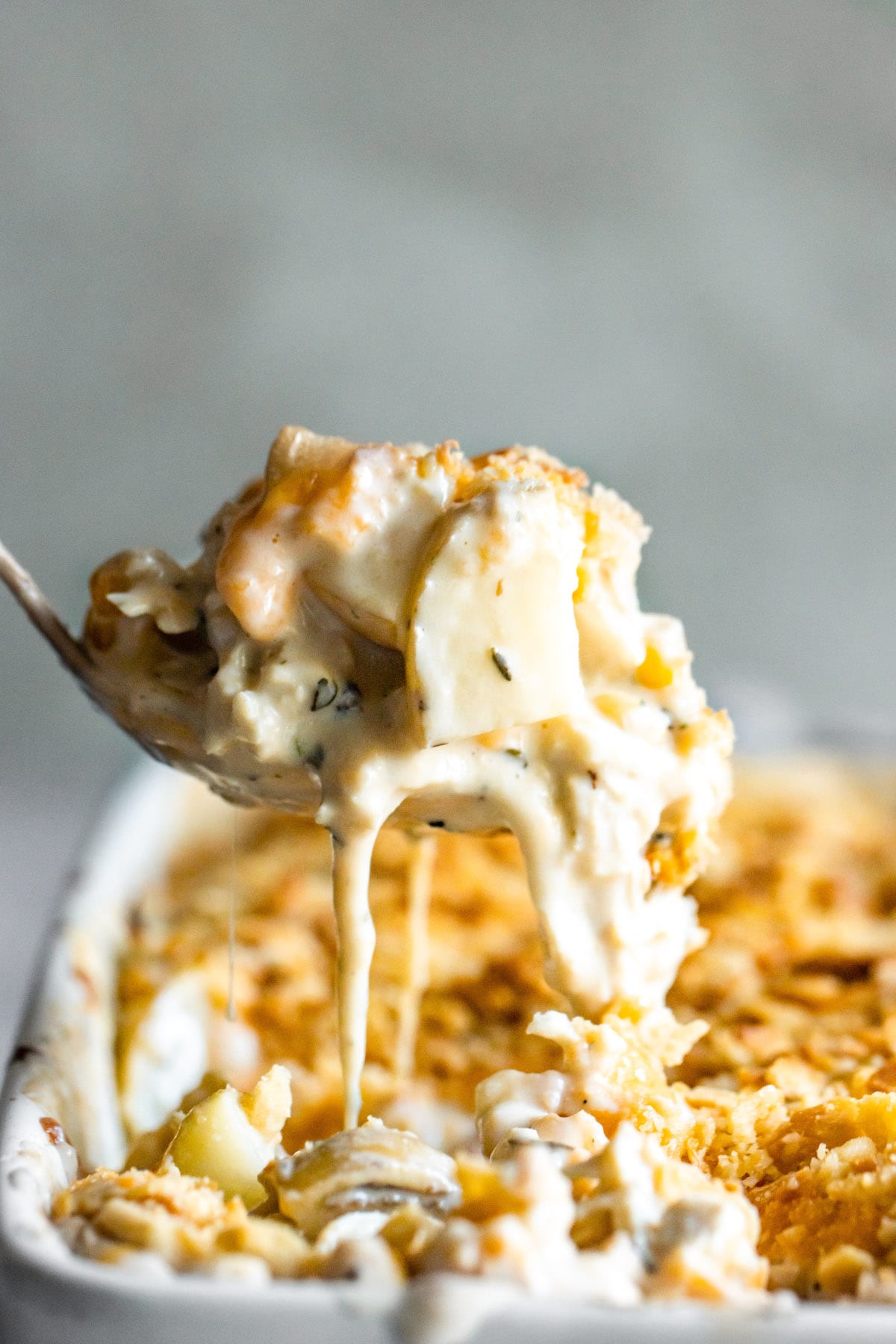 My Favorite Easy Chicken Casseroles
Isn't a casserole a wonderful thing? Just a big ol' bunch of delicious and wholesome ingredients, coming together under one roof (of melted cheese), all golden-baked and bubbly. A casserole doesn't take much effort to make, and the payoff is a filling one-pan meal that's loaded with flavor and ready to feed a small army.
Today, I'm sharing 10 of my best chicken casserole recipes that I just KNOW you're gonna love. Because if anything makes a casserole that much better, it's the addition of my favorite protein. 
These chicken casseroles are perfect for family dinners, potlucks, and holidays, and for making ahead and freezing for all your future nourishment needs. Make one tonight, and store it for a busy weeknight down the road!
Be sure to check out my casserole tips below, along with guidance for how to store and freeze your chicken casseroles further down in this post.
Why You'll Love These Casserole Recipes
So, what makes this round-up of chicken casseroles rule the roost? So many things! But here are some of the top few:
Zero-fuss. If you have an oven and a casserole dish, you can make any of these delicious chicken casserole recipes. 
Basic ingredients. Simple ingredients are the name of the game, here. Whatever ingredients you don't already have in your pantry are almost guaranteed to be found at your local supermarket.
Wholesome comfort food. It doesn't get more cozy and satisfying than tucking into a hot-from-the-oven chicken casserole. These recipes are the definition of wholesome home cooking.
Minimal clean-up. A chicken casserole is a one-pan meal that feeds the whole family (and then some), with fewer dishes at the end of the day.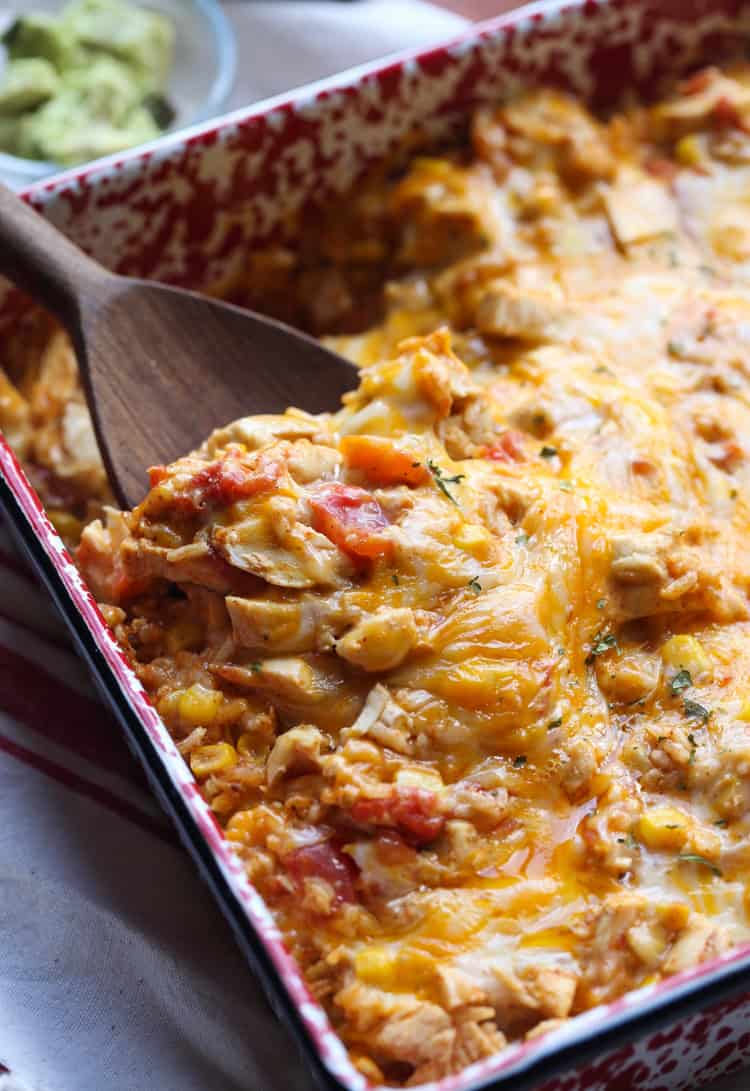 Tips for the Best Chicken Casserole
Before we dive into this list of easy dinner ideas, below are some clever tips and tricks when baking the ultimate homemade chicken casserole:
Choose the right baking dish. Ceramic casserole dishes tend to heat up slower than metal or glass and can affect the baking time. If you're in a hurry for a hot casserole, opt for the latter.
Avoid overcooking your pasta. In casserole recipes that call for pasta, aim to boil the noodles for 2-3 minutes less than indicated on the package. The pasta will be slightly undercooked, but this leaves room for it to finish cooking once it's baking in the casserole. 
Choose melty cheeses. Not all cheeses are casserole material! Unless a recipe calls for something specific, stick to meltable cheeses like cheddar, and grate them fresh for best results.
Get creative with ingredients. The beauty of making casseroles from scratch is how easy they are to customize. I often include add-in suggestions and variation ideas with each recipe. But you can mix up your chicken casseroles with your favorite ingredients like veggies, seasonings, and more.
Don't overfill the casserole dish. When assembling your chicken casserole, make sure to leave enough space in the baking dish to account for bubbling. If you're worried that your casserole might bubble over, place the baking dish on a cookie sheet to catch any potential spillover.
Should you cover a chicken casserole when baking? Most of the recipes below are baked uncovered, in order to achieve that golden and bubbly, crispy casserole top. Be sure to refer to the instructions for each recipe.
On that note, if your casserole is browning too quickly, you may wish to cover or tent it with aluminum foil while it finishes baking. You can always remove the foil for the final few minutes to let the top crisp up again.
10 Chicken Casserole Recipes You Need to Try
Let's get into some of my all-time best chicken casserole recipes that take hardly any time and energy to make. Be sure to scroll further down for fun casserole side dishes ideas and serving suggestions!
What Goes With a Chicken Casserole?
A homemade chicken casserole is a meal in itself, but many of the recipes I've included can be dished up over rice as a way to bulk up a meal. Or, pair a casserole with more tasty dishes at your next family dinner or potluck. Here are easy side dishes for a hearty chicken casserole:
Storing and Reheating Leftovers
Most leftover chicken casseroles can be stored airtight in the fridge for a few days after they're baked. Seal leftovers in an airtight container, or wrap them in plastic wrap or foil.
My preferred way to reheat a chicken casserole is in the oven, covered, at 350ºF until it's warmed through again. If needed, uncover the casserole for the last few minutes if you'd like to crisp up the topping again.
Make sure to check the individual recipes for specific storage and reheating instructions.
How to Freeze a Chicken Casserole
Freezing is a great option when it comes to storing chicken casseroles. Who doesn't love having a casserole (or five) in the freezer, ready for a last-minute, Hail Mary dinner? Freezing is as easy as wrapping your chicken casserole either whole or in portions and storing it in the freezer for up to 3-4 months.
Planning to freeze more than one casserole? Here's a helpful "hack" for how to store casseroles without sacrificing your baking dishes to the freezer for months at a time:
Line the casserole dish with foil before you assemble the casserole. Leave a few inches of extra foil on all sides.
Assemble the casserole, and either bake it or fold the foil over top to freeze it as is.
Place the whole casserole into the freezer. Once solid, lift the casserole out of the pan, foil and all. Wrap it in another layer of foil, then place it back into the freezer. 
Voila! Your casserole dish is freed up for even more of your favorite dinners. Whenever you're ready to bake your frozen chicken casserole, remove the aluminum foil, and return the casserole to the baking dish. Thaw the casserole in the fridge, then bake!
Looking For Even More Chicken Dinner Ideas?