This rich and creamy Instant Pot Risotto is an easy, hands-off entree or side dish that's ready in 30 minutes! Tender arborio rice is pressure cooked with onion, garlic, white wine, and broth, then finished off with freshly grated parmesan cheese.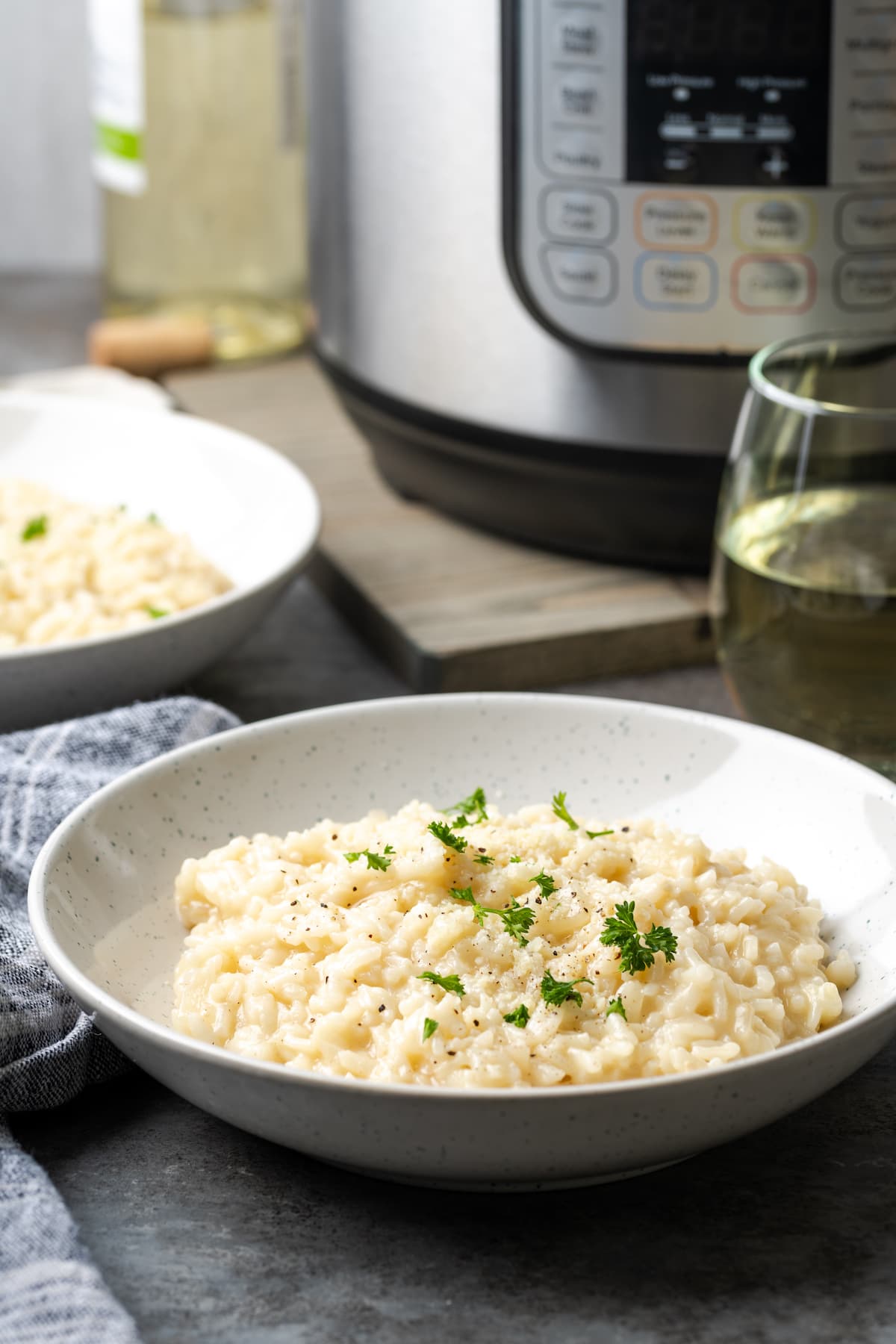 Easy Instant Pot Parmesan Risotto
Winter is creeping in, friends. And you know what that means: comfort food season! Lately, I've been all about cozy casseroles, crock pot dinners, and pasta. Today we're making my favorite version of an Italian classic. This Instant Pot risotto is rich, flavorful, and perfect for an easy weeknight dinner.
I love the flavors of creamy homemade risotto. But sometimes there just isn't enough hours in an evening to stand over a pot of simmering rice, painstakingly ladling another spoonful of broth into the pot as the last one absorbs. Is it worth it? Always. However, the Instant Pot is perfect for making silky, hands-off parmesan risotto in the same amount of time.
This is actually the perfect risotto recipe for beginners. It has loads of Italian flair and tastes like it was ordered in a 4-star restaurant. No ladling necessary!
What is Risotto?
Risotto is a classic Italian rice dish, made with starchy rice that's cooked slowly in broth until the texture becomes rich and creamy. Risotto recipes often include ingredients like butter, garlic, white wine, and lots of freshly grated Parmigiano-Reggiano.
You'll also find loads of variations, from mushroom risotto to shrimp risotto. Be sure to check out the section later on for ideas!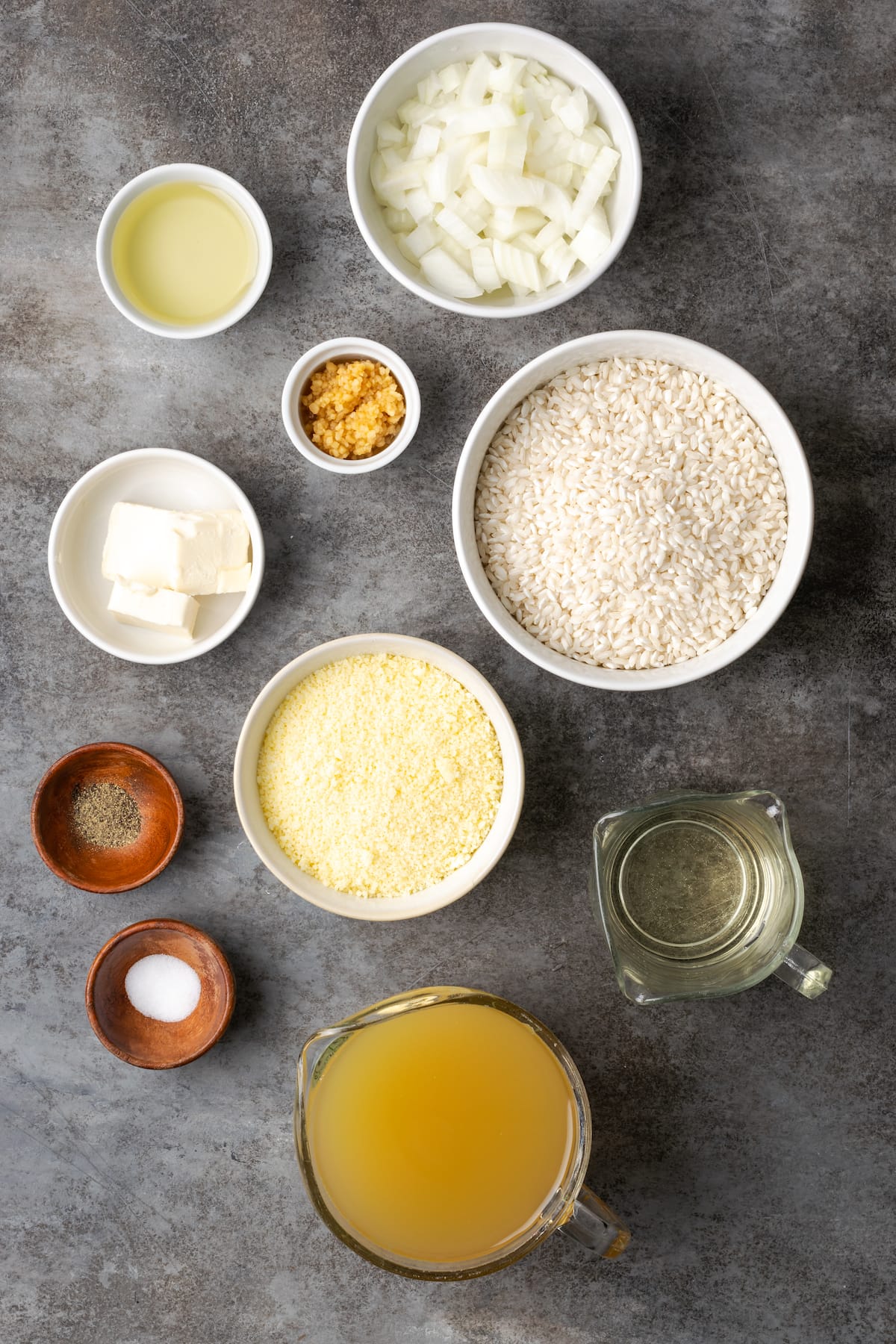 Ingredients You'll Need
Below is everything you'll need to make this quick and easy Italian-style risotto in your Instant Pot. Be sure to scroll to the recipe card for the full ingredient amounts.
Olive Oil, Onion, and Garlic: Onion and minced garlic are sauteed in olive oil to form the flavor base for the risotto.
Arborio Rice: This is classic Italian risotto rice. It is different from regular rice (see below), but you'll find it with other rice varieties in most grocery stores. 
White Wine: Use a dry white wine, like a chardonnay or pinot grigio.
Broth: I recommend using low-sodium chicken broth or vegetable broth since you'll season the risotto with additional salt throughout the recipe.
Parmesan Cheese: Freshly grated sharp cheese like parmesan, Parmigiano, or pecorino.
Butter: Adds richness and makes the risotto extra creamy.
Salt and Pepper
What's the Difference Between Arborio Rice and Regular Rice?
Arborio rice is an Italian short-grain rice that's starchier than other varieties like basmati, jasmine rice, or white rice. The excess starch in risotto rice is what gives the dish its creamy, chewy texture. Risotto just isn't the same without it! Other starchy kinds of rice include Carnaroli or Vialone Nano rice, which can also be used in this recipe.
How to Make Risotto in the Instant Pot
Who's ready for the creamiest, most irresistible risotto courtesy of some IP magic? Here's how quickly it all comes together: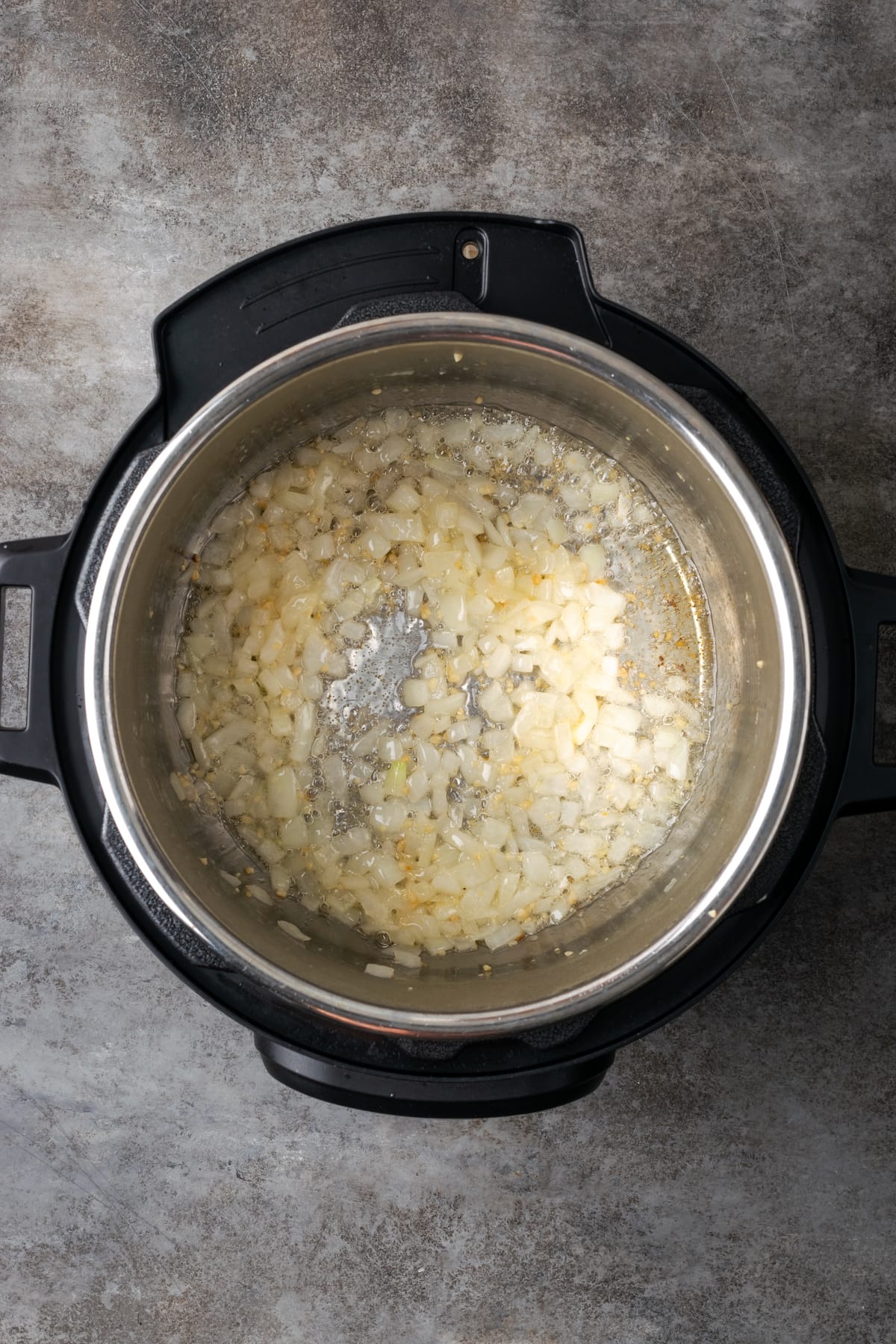 Saute: With the Instant Pot set to saute, season the onions and garlic with a pinch of salt and then cook, stirring often, until tender. If you notice your veggies are browning too quickly, you can add a bit of water to the pot and then cook it off.
Add Rice and White Wine: Next, lightly toast the rice in the pot with the oil and veggies. After a couple of minutes, pour in the white wine to deglaze the pot. Sprinkle in a bit more salt. Continue to cook until the white has been absorbed completely.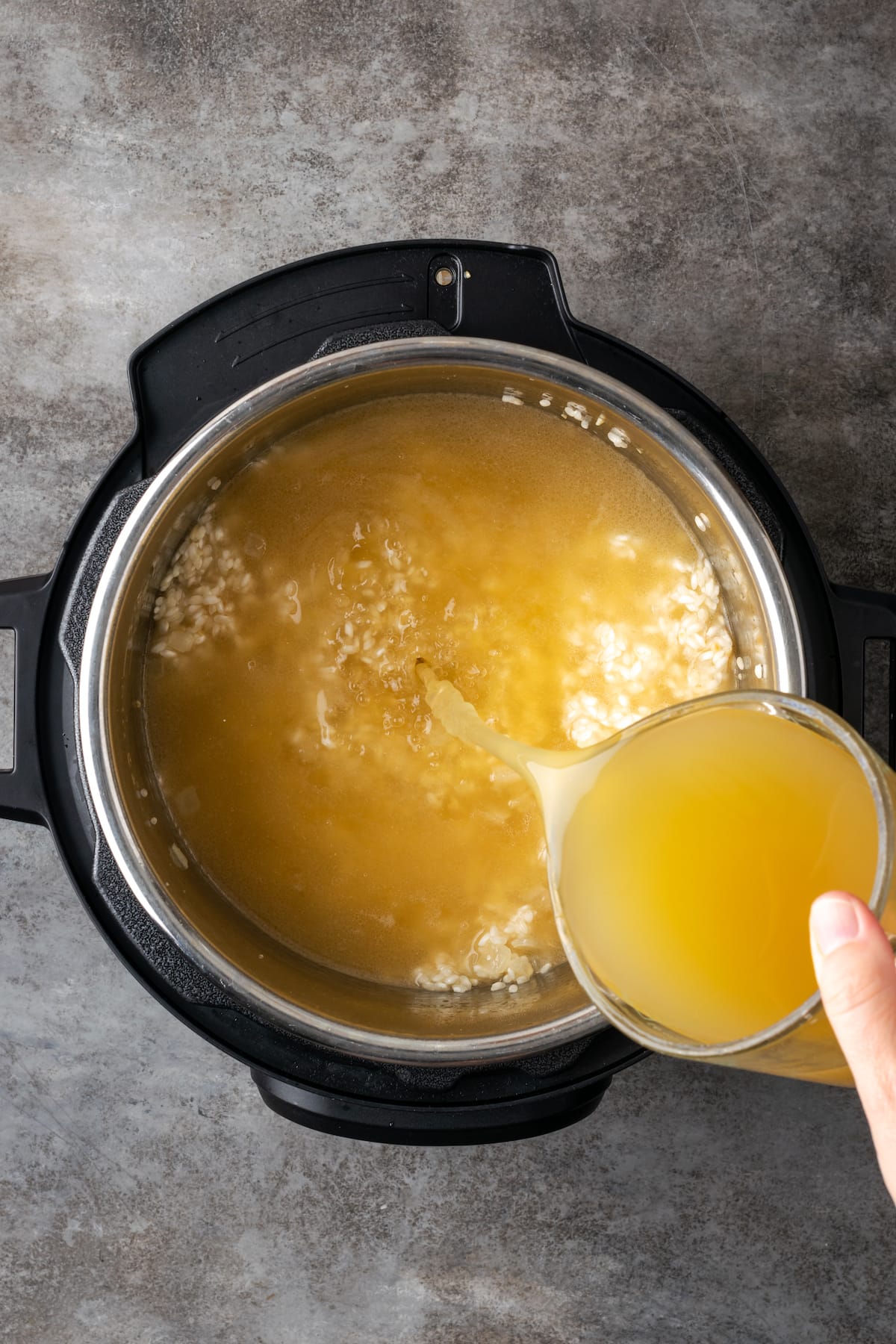 Add Broth and Cook: Switch the pot off of saute mode and stir in the broth. Seal the Instant Pot and set it to cook at high pressure for 5 minutes. Release the pressure manually (and carefully!) and lift the lid.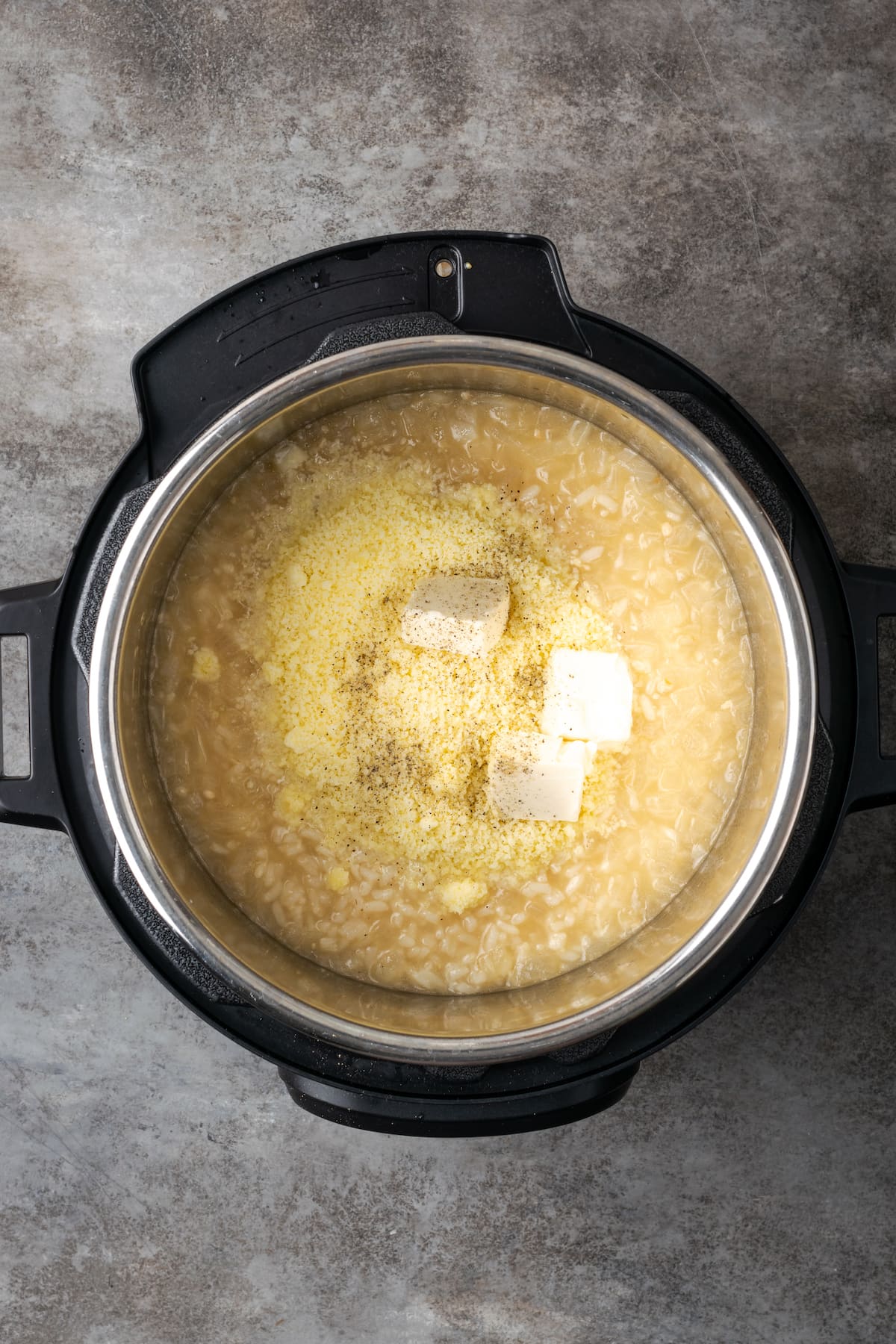 Finish With Butter and Parmesan: You may notice when you lift the lid that the risotto looks a bit soupy. This is totally fine – and nothing a little butter and parmesan can't fix! Stir the grated parmesan into the risotto to melt, along with butter, plus a pinch of salt and pepper. Keep stirring until the risotto is smooth and thickened. Serve right away! See below for easy ways to serve your homemade risotto.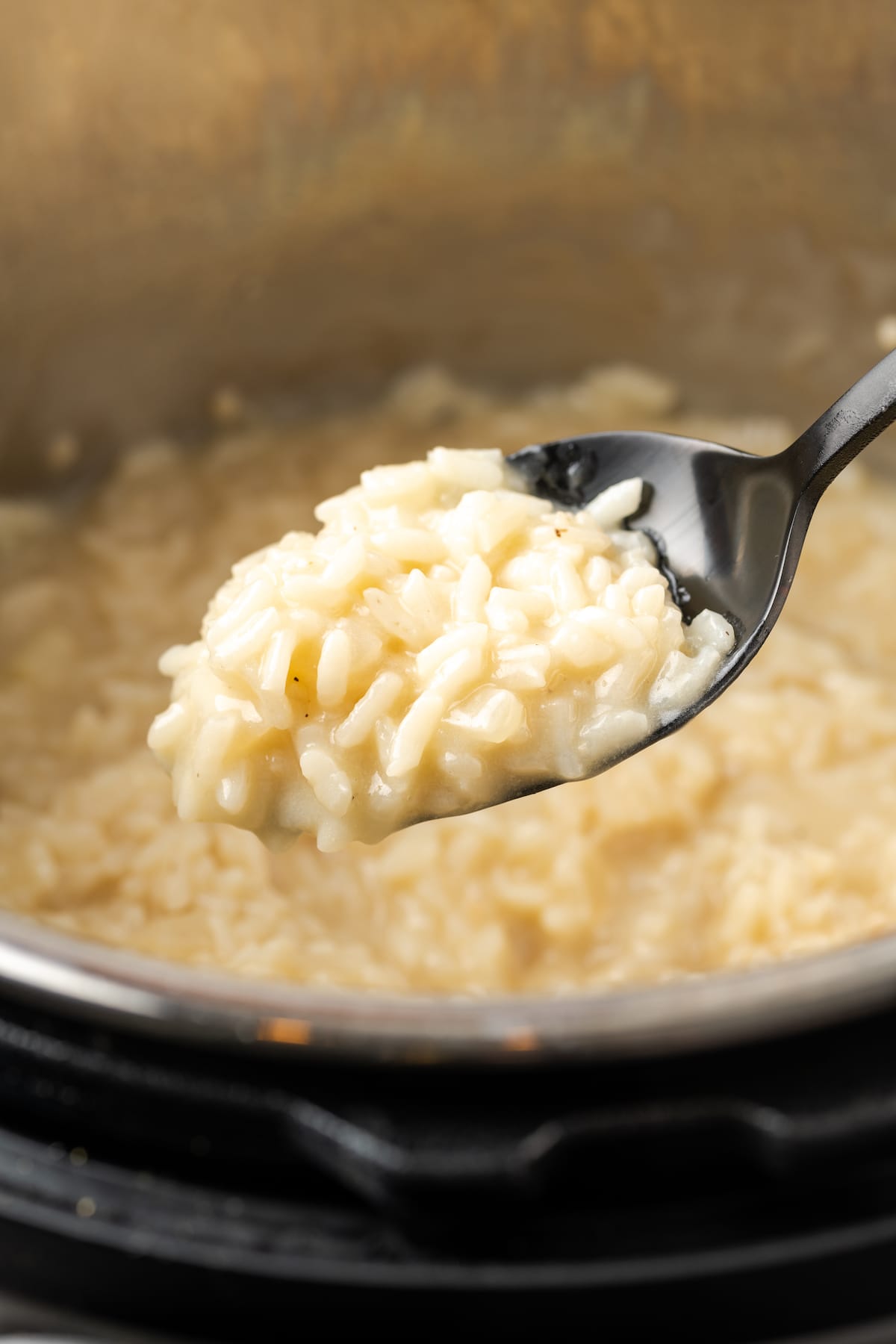 Tips for Success
This Instant pot recipe is pretty much fail-proof! Still, here are some quick tips to ensure your risotto comes out velvety and perfect every time you make it:
Don't rinse the rice. Some types of rice require rinsing (like basmati), but not risotto rice! You want to keep the starch intact, as this is what makes the risotto extra silky.
Use the pressure cooking setting. While the Instant Pot comes with a rice cooking setting, you want to use the pressure cooker for the best risotto.
How do I know when risotto is cooked? Your risotto is fully cooked if the grains of rice are chewy, not crunchy, and the texture is creamy.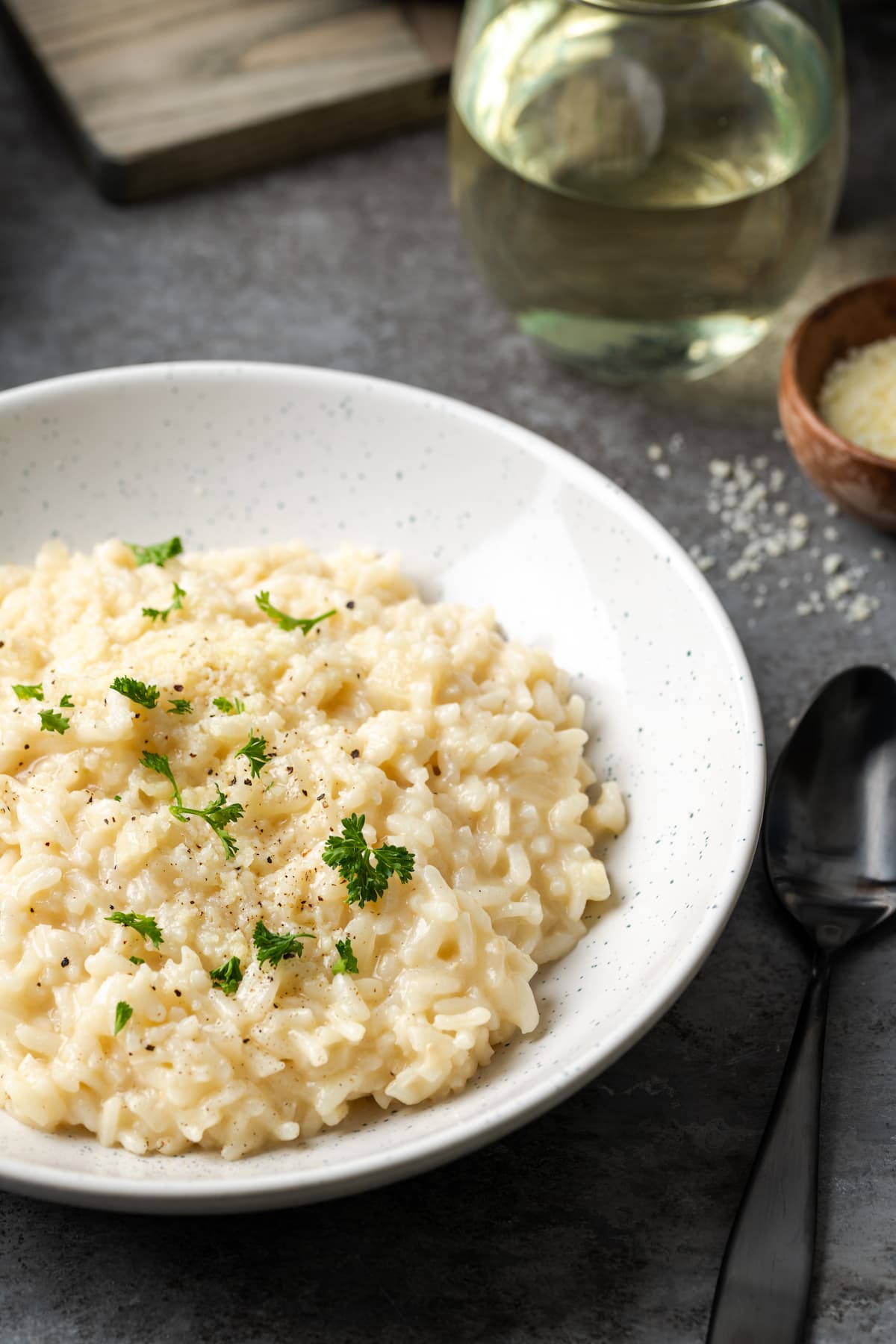 Easy Risotto Variations
Looking to spruce up your homemade risotto with some extra add-ins? Try one of these variations:
Mushroom Risotto: Saute diced mushrooms along with the onion and garlic.
Seafood Risotto: Add in diced, cooked shrimp or lobster chunks. 
Veggie Risotto: Make a roasted butternut squash risotto with diced squash, or try an earthy asparagus risotto! 
Chicken Risotto: Stir in cooked shredded chicken.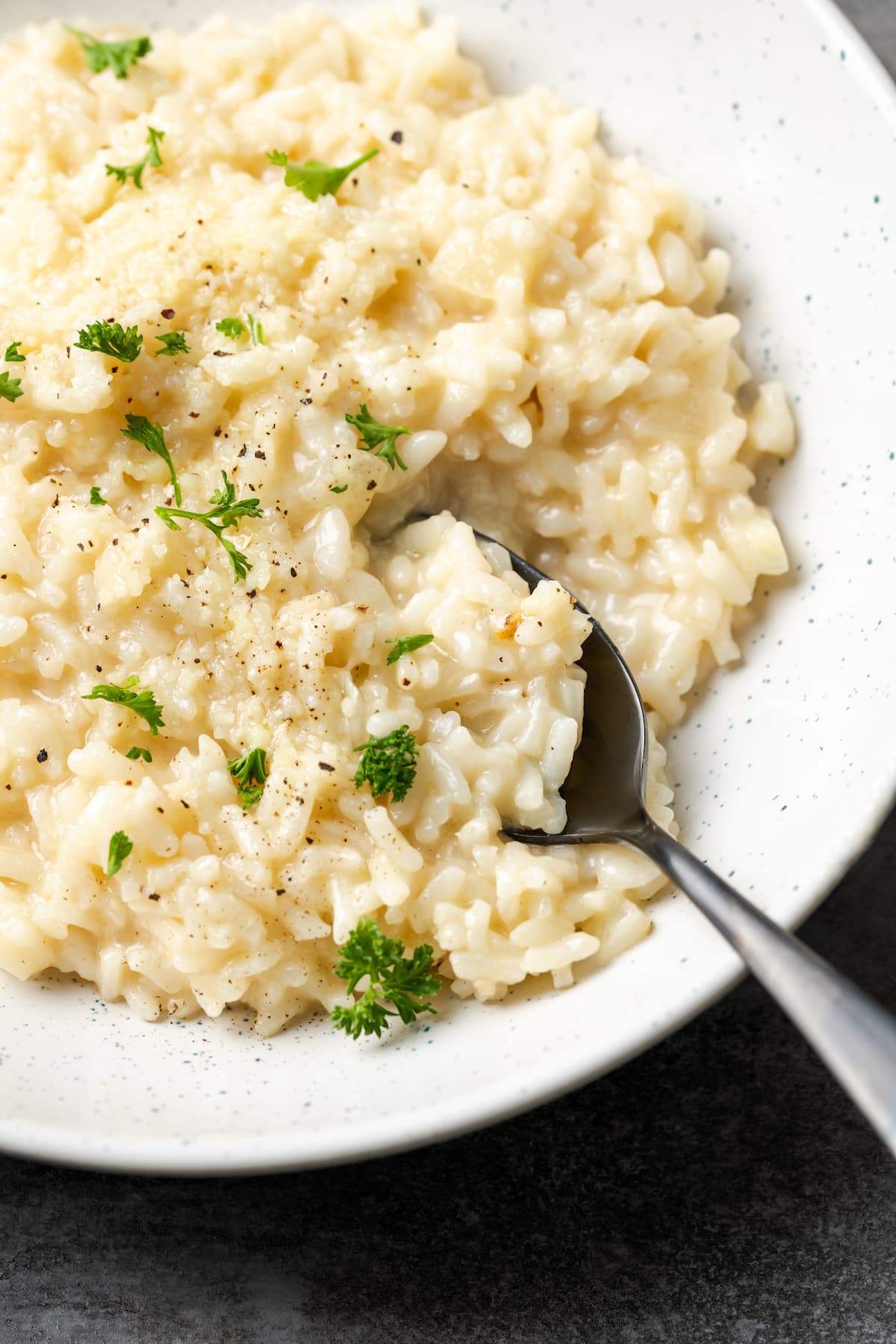 Serving Suggestions
We love our classic parmesan risotto topped with a fresh crack of pepper, additional parmesan, plus a sprinkle of freshly chopped parsley leaves. 
Risotto can be a meal in itself with a side of garlic bread (my Parmesan Garlic Biscuit Rolls are ready in the time it takes to pressure cook the risotto!). For something lighter, serve a plate of risotto with a side of sauteed veggies. 
This Instant Pot risotto also makes an easy side to serve with comforting mains like Slow Cooker Beef Tips, Creamy Garlic Chicken, and Easy Tuscan Chicken.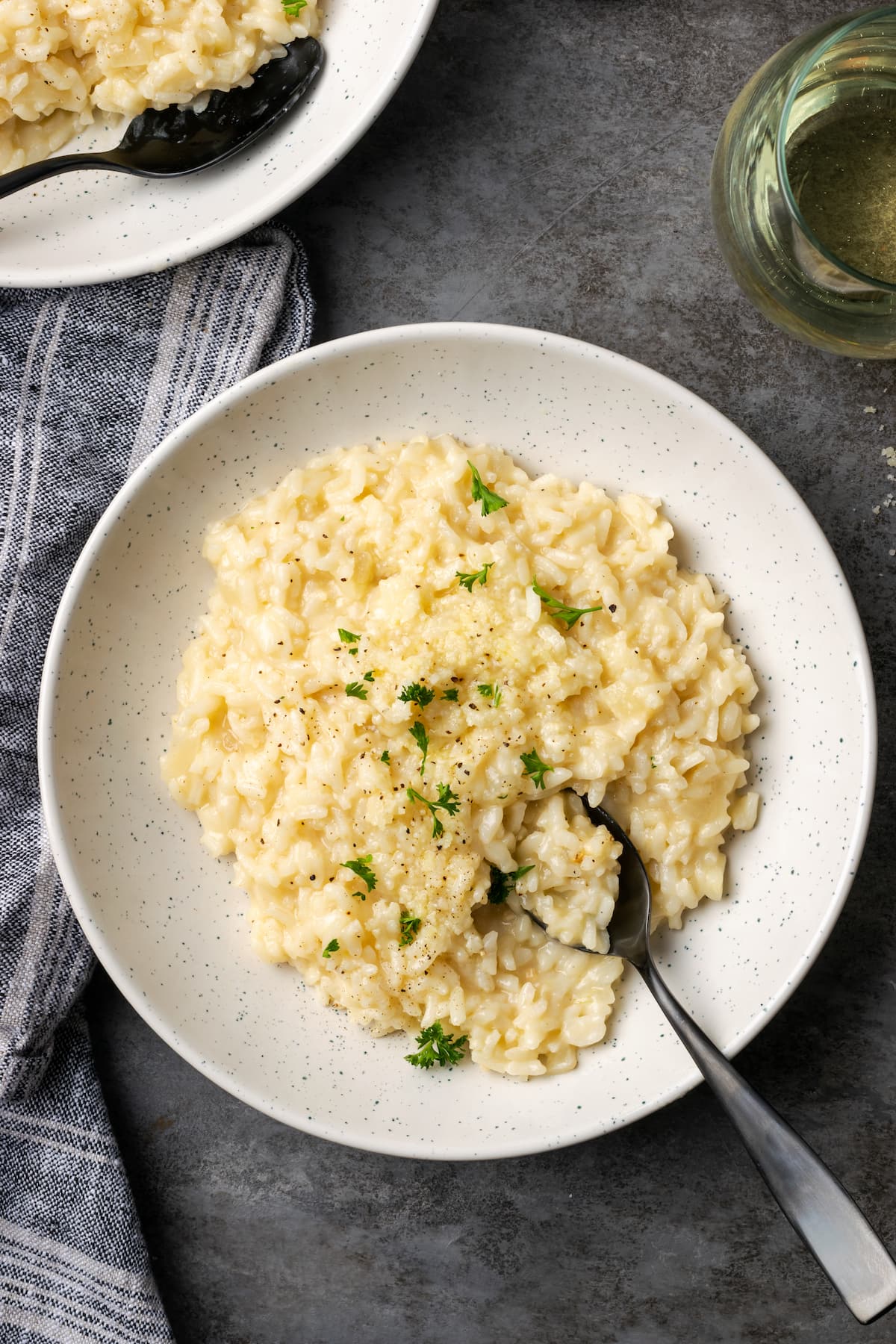 How to Store and Reheat Leftover Risotto
Storing leftover risotto properly is key to keeping its delicious and creamy texture and avoiding bacteria. Here are my storage and reheating tips for this Instant Pot risotto:
I recommend storing leftovers airtight in the fridge within 2 hours of when the risotto is made. 
You'll also want to reheat and eat any leftovers within a day or two. The longer risotto sits the more likely it is to become mushy.
Reheat risotto in the microwave with a splash of water or broth. Cover the bowl or dish with a damp paper towel and heat in 30-second bursts until your parmesan risotto is piping hot throughout. 
Can I Freeze Risotto?
I don't usually recommend freezing risotto, as the texture will change once it's thawed. However, if you absolutely must freeze it, store it airtight and don't freeze it for longer than 2-3 months for best results. Thaw the risotto in the fridge before reheating.
---
Description
Creamy Instant Pot Risotto is an easy entree or side dish made with arborio rice, white wine, broth, and parmesan. Just as rich and comforting as a classic risotto, and ready in 30 minutes!
---
3 Tablespoons

Olive Oil

1 Cup

Onion, diced

3

cloves Garlic, minced

2 Cups

Arborio Rice

1/2 Cup

White Wine

4 Cups

Chicken Broth (or Vegetable Broth)

1 Cup

Parmesan Cheese, grated

3 Tablespoons

Butter

1/2 teaspoon

Salt

1/4 teaspoon

Pepper
---
Turn the instant pot to saute and add the olive oil, onions, garlic, and a pinch of salt. Cook for about 5 minutes until tender, stirring frequently. If the onions or garlic begin to brown, add 1/4 cup of water and continue to cook and stir until the water is cooked away.
Add the rice and stir it well to coat the grains with the oil. Cook for 2 minutes.
Add the white wine and another pinch of salt. Deglaze the instant pot of any stuck-on bits. Cook for 2-3 minutes until all of the wine has cooked away.
Cancel the saute mode.
Add the broth. Stir well.
Place the lid on the instant pot in the sealing position. Set to high pressure for 5 minutes.
After the cooking time has elapsed, carefully quick-release the steam from the instant pot and remove the lid.
The risotto will look a bit soupy at this point. Add the parmesan cheese and butter and the remaining salt and pepper. Stir continuously until it is thickened and all of the cheese and butter have melted.
Serve immediately. Garnish with fresh cracked pepper, parmesan cheese, and parsley.
---
Notes
Store leftover risotto in an airtight container in the refrigerator for up to 2 days.
To reheat place a serving of risotto in a microwave-safe bowl along with a couple of tablespoons of broth or water. Cover with a damp paper towel and heat in 30-second intervals until it reaches at least 165 degrees.
Keywords: how to make risotto, parmesan risotto, easy instant pot recipes
Want To Save This Recipe?
Find more recipes like this:
More Instant Pot Dinner Ideas
PIN for later: