Philly Cheesesteak Stuffed Biscuits are buttery biscuits stuffed with tender and flavor packed roast beef, melty cheese, and perfectly seasoned peppers. The perfect game day food or everyday dinner idea!
If you love Philly cheesesteak recipes and easy appetizers, make sure to try my Philly Cheesesteak Sliders too!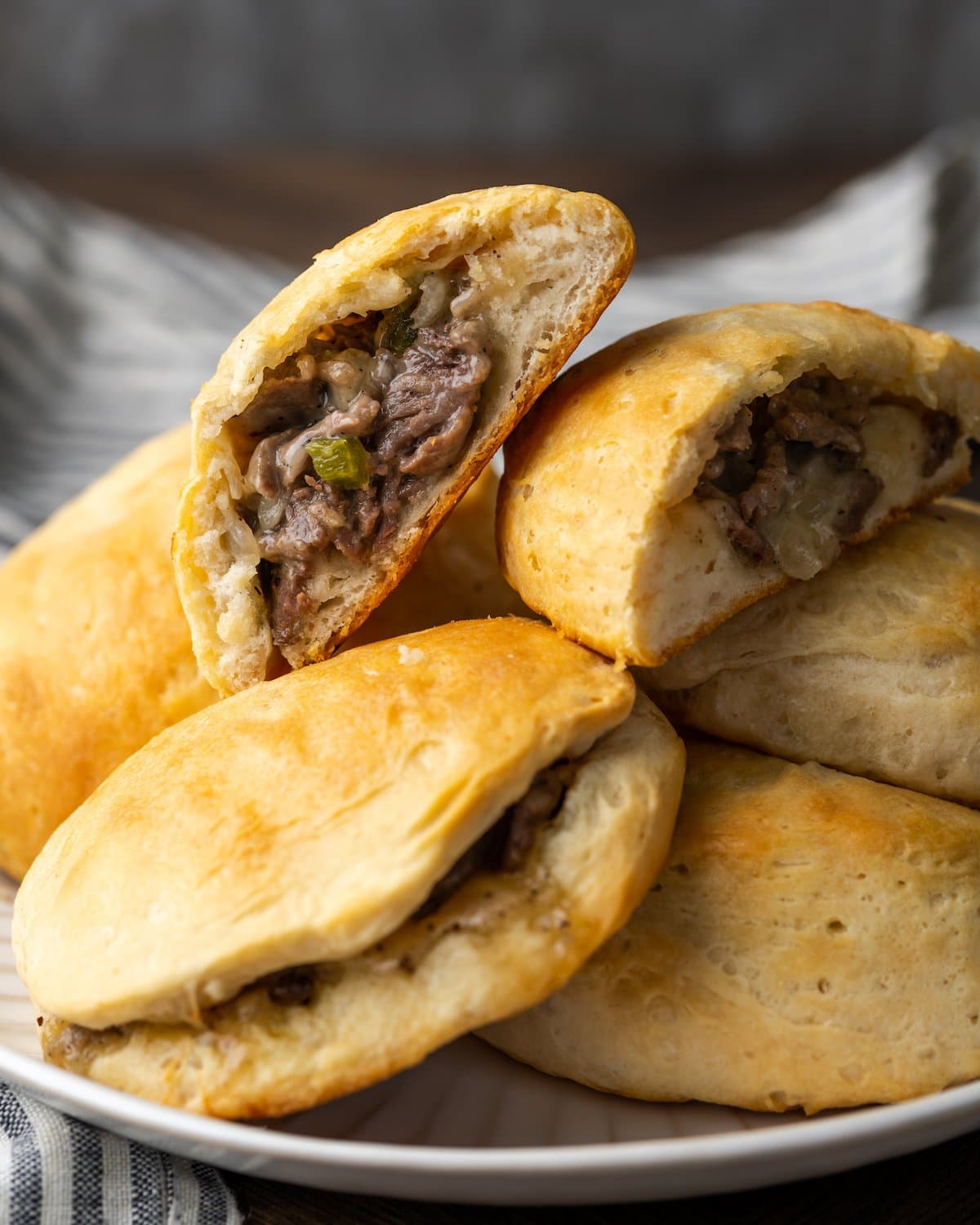 Take Basic Buttermilk Biscuits to the Next Level
Stop what you're doing. Drop everything. Get your oven preheating, because you absolutely need to make these Philly cheesesteak stuffed biscuits, stat!
If there are two things that I love serving up to guests, it's flaky biscuits and Philly cheesesteak. An odd combo, maybe. But that's only before you try this crazy delish recipe that brings the two together in blissful, savory harmony.
Believe me, your basic buttermilk biscuit just got a whole lot tastier. This is a Philly steak sandwich tucked into a deliciously buttery biscuit, complete with melty Monterey Jack cheese oozing from in between strips of tender beef and crisp, caramelized veggies. I'm not drooling, you're drooling!  
What Is a Philly Cheesesteak?
If you live in America, you don't have to be from Philadelphia to know what their famous cheesesteak sandwich is! But if you've never had one before, a cheesesteak is a sandwich roll traditionally filled with slices of juicy rib-eye steak, caramelized onions, green peppers, and melty American cheese.
I love the combination of flavors in a Philly steak sandwich, and it's been my delicious inspiration for everything from Sloppy Joes to Philly Cheesesteak Mac and Cheese!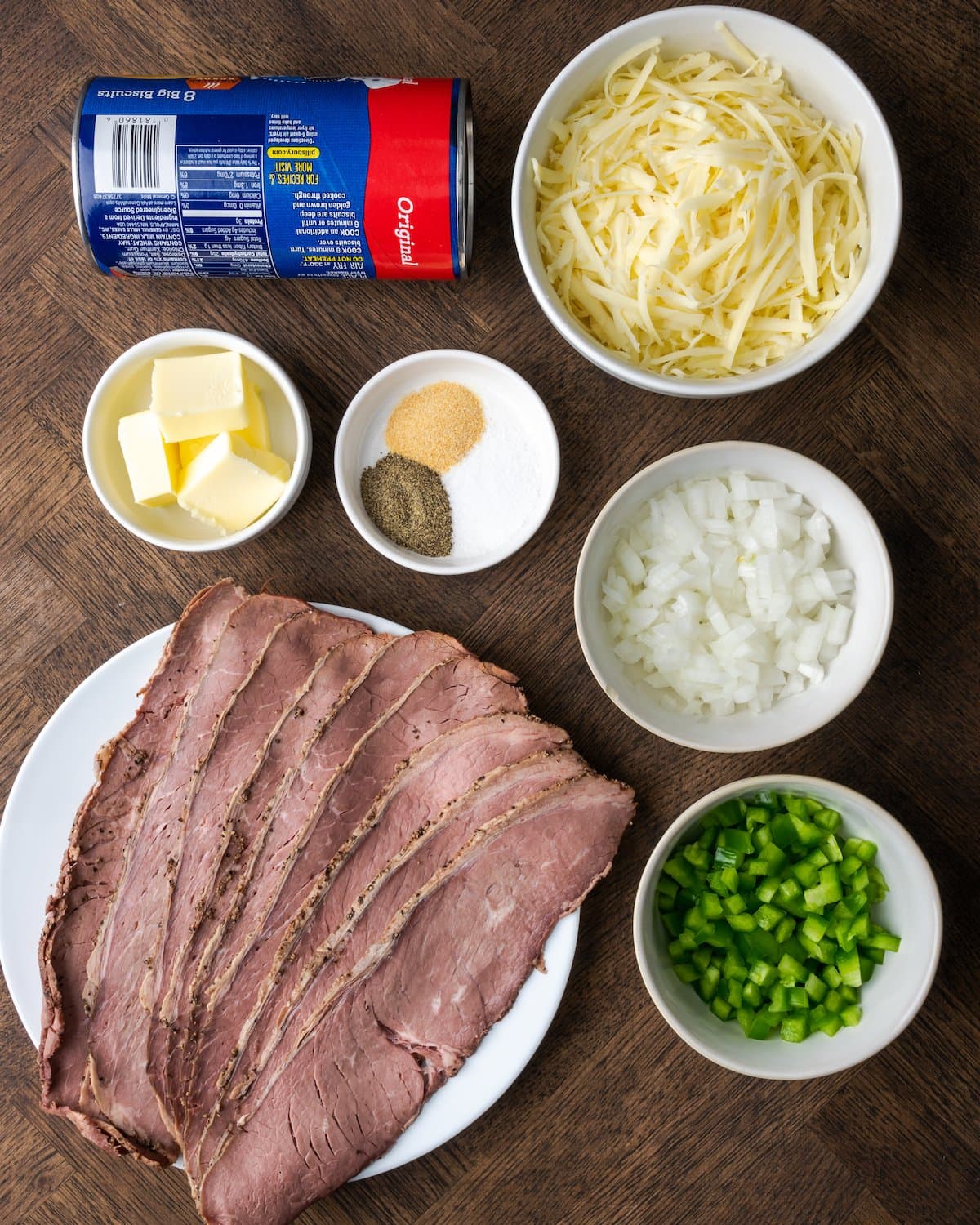 Recipe Ingredients
The Philly Steak recipe I use to stuff the buttermilk biscuits is so easy, you can whip it up on a weeknight or pull it together in 30 minutes anytime you entertain. Here's what you'll need to make it (and be sure to check the full amounts in the recipe card):
Butter: Salted or unsalted (your choice), for sautéing the veggies and for brushing over the biscuits before they're baked. 
Onion and Green Bell Pepper: You can't have a Philly cheesesteak without crisp caramelized onions and green peppers! 
Beef: For convenience's sake, I make this recipe with the thinly sliced roast beef that you find in the deli section of the grocery store. The thin slices heat up quickly and are easy to stuff into the center of a tender biscuit.
Seasoning: Salt, pepper, and garlic powder for seasoning the cheesesteak filling.
Cheese: I love combining Monterey Jack cheese into the filling for flavor, not to mention those epic strings of melted cheese! You can use another kind of cheese like grated cheddar, Colby Jack, American cheese, or provolone, too.
Buttermilk Biscuits: To make this an easy side dish, I use a can of biscuit dough from the refrigerator aisle. Of course, if you have the time, you can absolutely make the biscuit dough from scratch. These turn out great with the dough from my Air Fryer Biscuits and Angel Biscuits recipes!
What Kind of Steak Should I Use? 
Traditional Philly cheesesteak recipes call for ribeye steak that's thinly sliced or shaved. Other variations will use NY strip steak or skirt steak. For this recipe, I use deli roast beef since it's super easy to find, comes already trimmed to the perfect thinness, and tastes great in these stuffed biscuits! Any of these steak varieties will turn out great, so long as they're sliced thin. Depending on your grocery store, some meat sections will have pre-packaged steak slices or shaved steak readily available. You can ask your butcher for assistance. Or, if you have one of the above types of steak handy in your fridge already, you can slice it up thinly yourself. To make it easier, place the steak in the freezer for about an hour to firm up the meat (don't let it freeze!), and use a sharp knife to shave off thin pieces. 
How to Make Philly Cheesesteak Stuffed Biscuits
While the oven is preheating, lay your canned buttermilk biscuits out onto a baking sheet lined with parchment paper. Leave this aside for now to give the dough a chance to warm up. Then, get started on your Philly cheesesteak filling: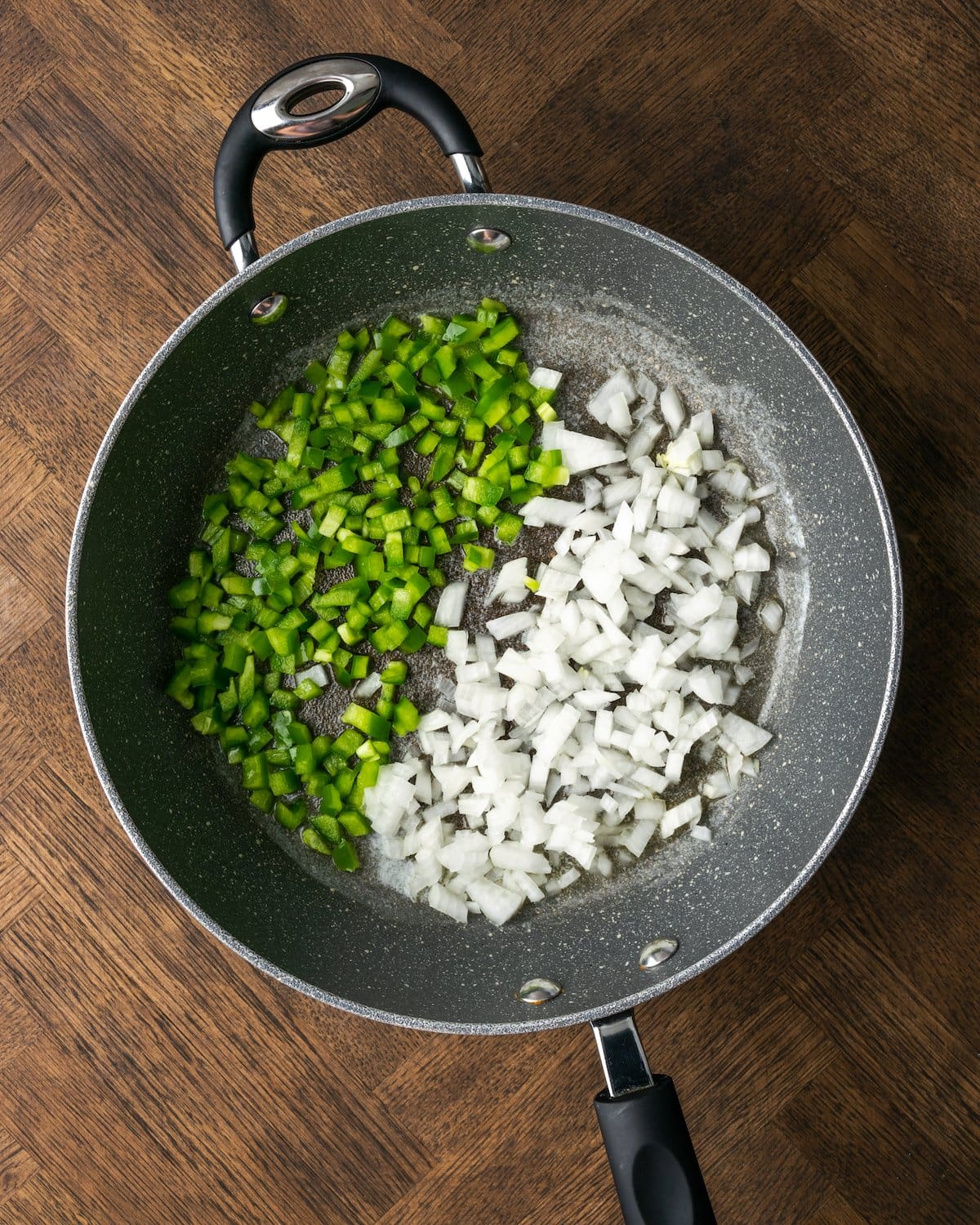 Sauté the Ingredients: Sauté and soften the diced onions and peppers in a skillet with butter, then season with salt, pepper, and garlic powder. Next, toss in the roast beef to cook for another minute or two, until warmed through.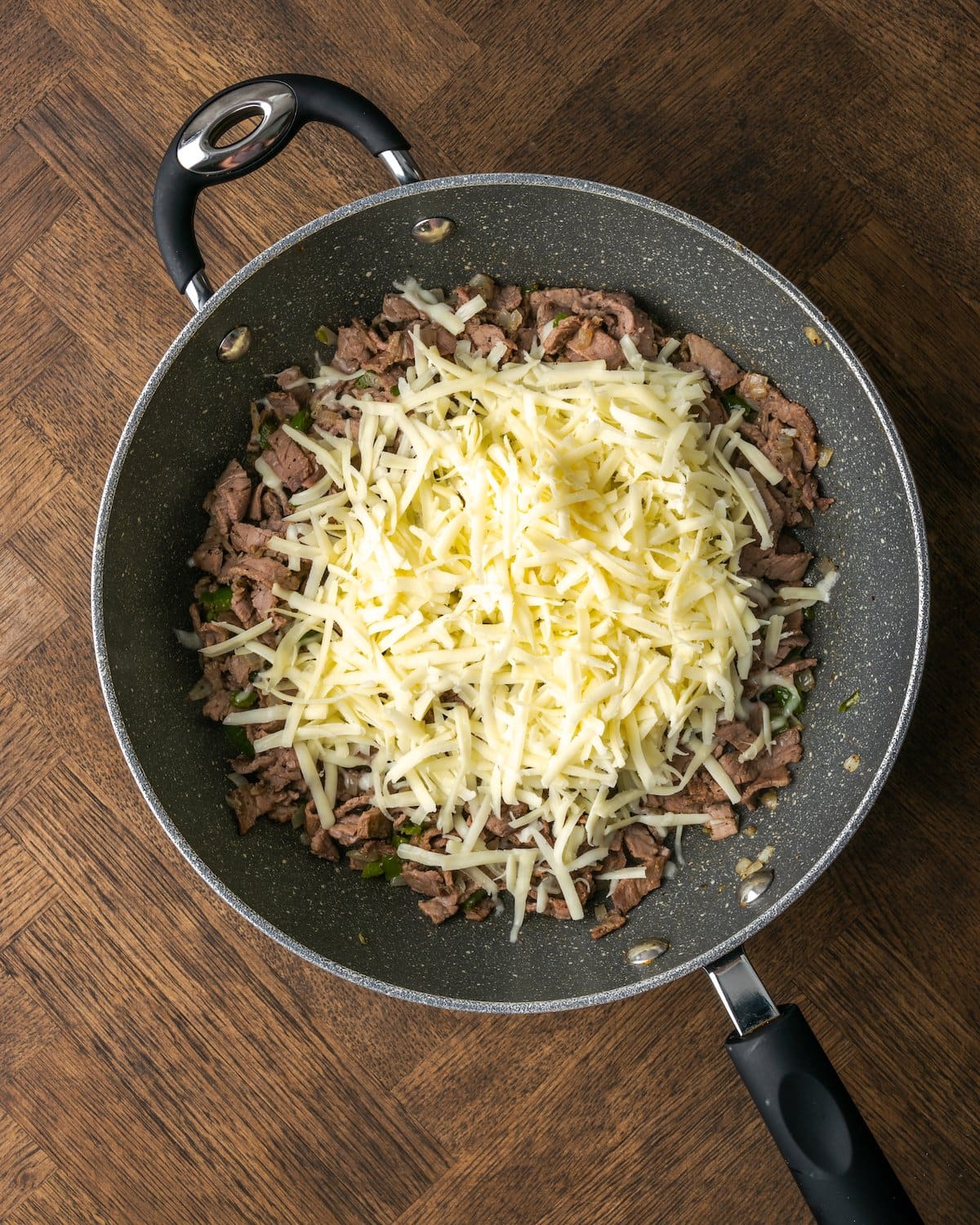 Add the Cheese: Stir in the grated Monterey Jack until the cheese just begins to melt, then take the pan off the heat. It's time to stuff those biscuits!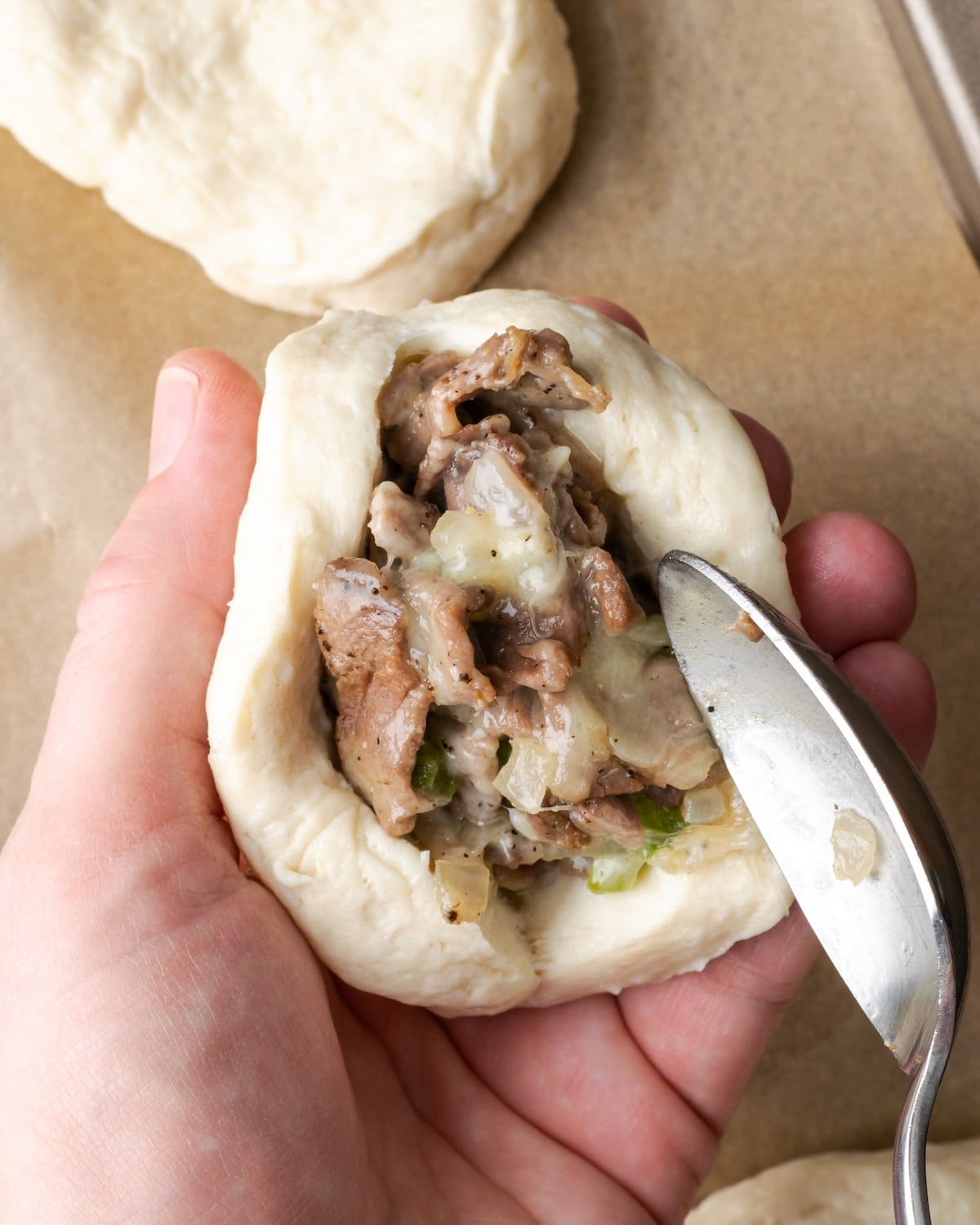 Fill the Biscuits: Create a small pocket in the first biscuit, then fill it with a scoop of steak filling before pinching the dough edges together to close. Repeat with the other biscuits, and arrange them back on the baking sheet.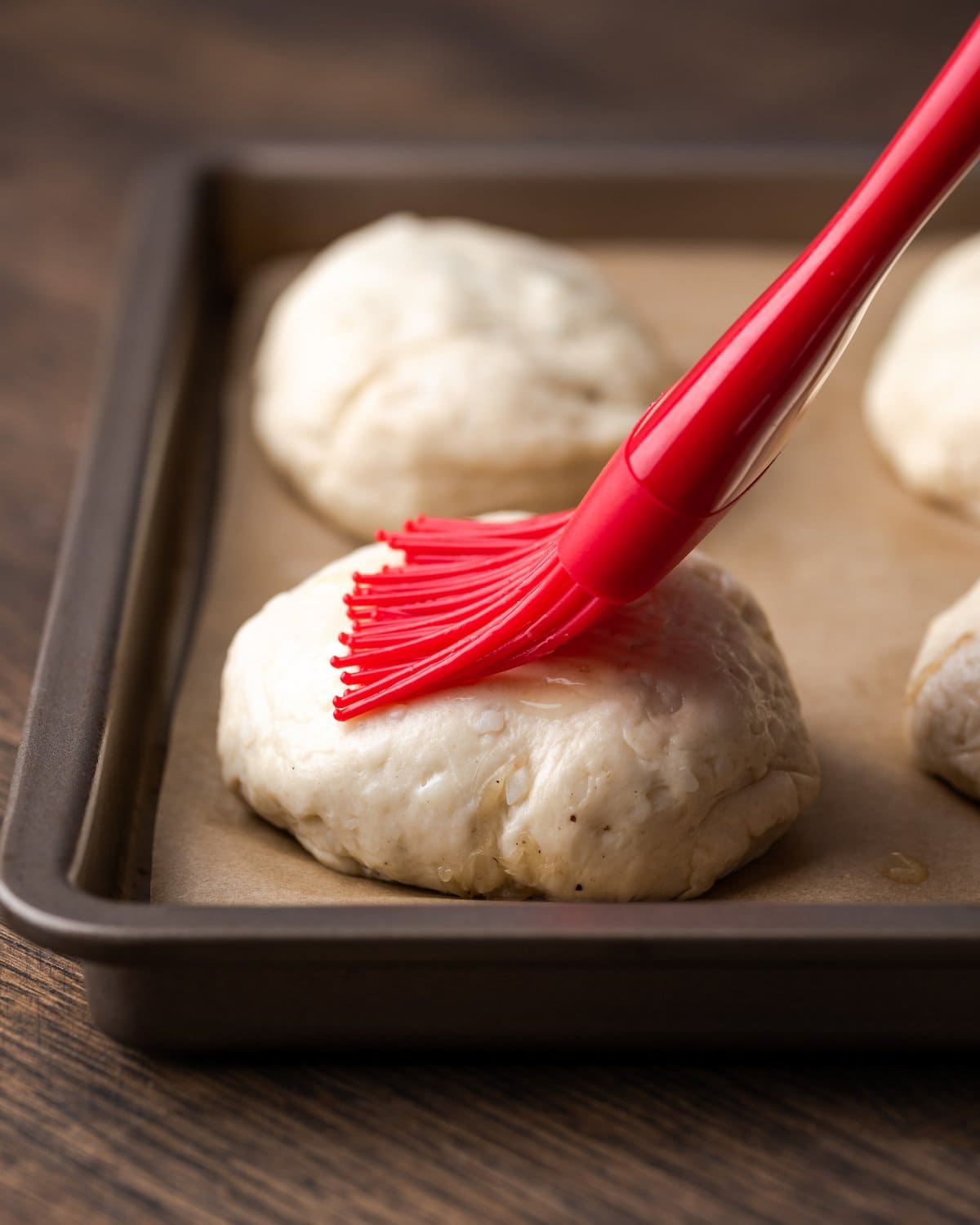 Bake: Finally, give the top of the biscuit dough a light brushing with melted butter. Bake the stuffed biscuits at 350ºF for about 17-20 minutes, until they're crisp and golden. Serve these Philly cheesesteak biscuits right away, while they're warm and melty! 
Can I Make Them in Advance? 
Serving these for a party or gathering? The steak filling can be made the night before! Chop and cook the onions and peppers and prepare the beef as directed. Keep the steak filling stored airtight in the fridge for easy stuffing the following day.
If the filling is still chilled from the fridge once it's inside the biscuits, you may need to add an extra few minutes to the baking time to really get the steak heated through.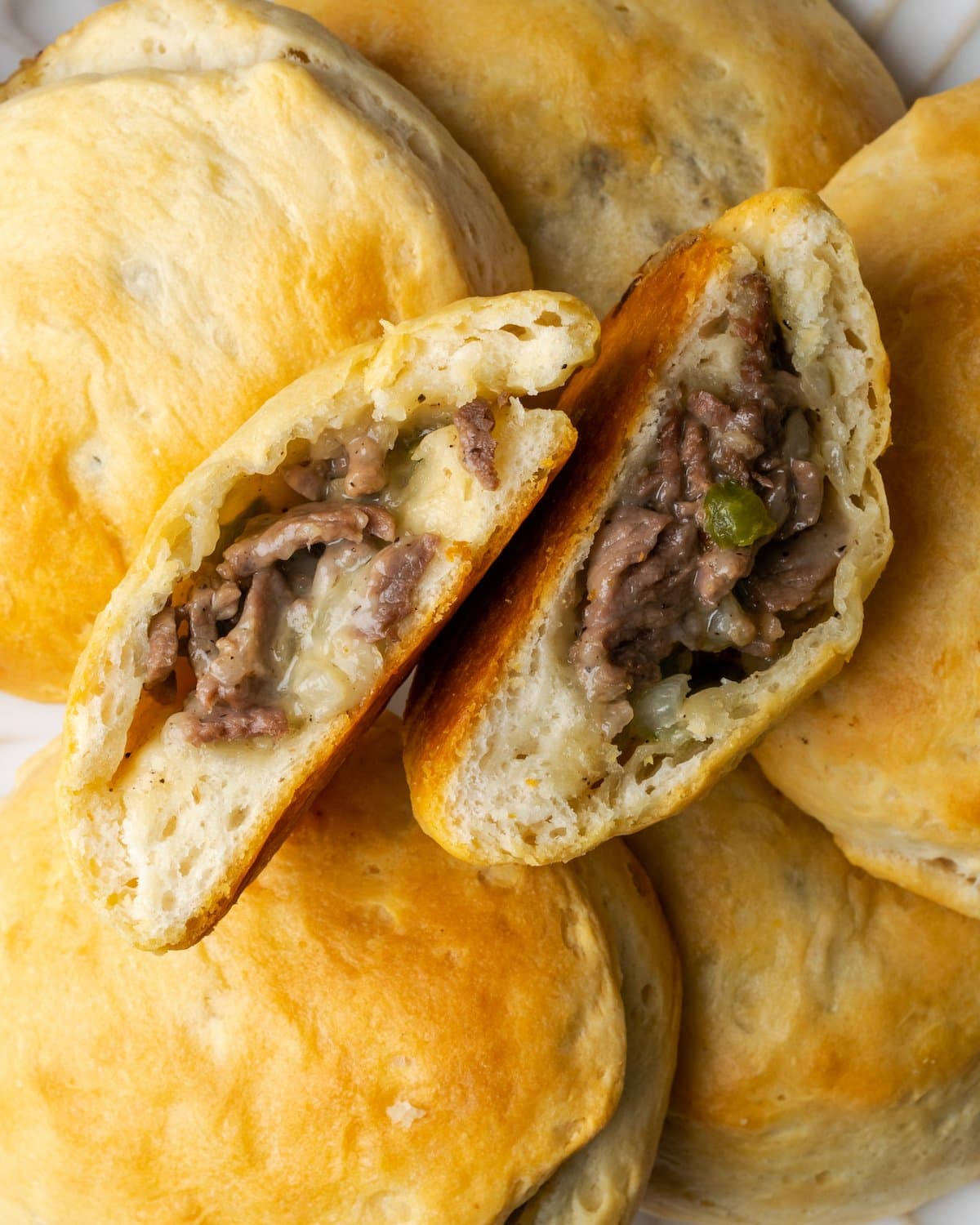 Tips for Success
Here are my tips for snag-free, wholly delicious Philly cheesesteak stuffed biscuits:
If the Tops Are Browning Too Fast: Depending on your oven, you might notice that the tops of your biscuits are browning faster than the steak inside is warming. In this case, cover the baking sheet with a layer of foil to keep the bread from toasting too quickly.
Don't Dodge the Butter Wash: A light brushing of melted butter overtop of the buttermilk biscuits makes all the difference! The biscuits bake up perfectly golden and the flavor is truly mouthwatering. 
Serving Suggestions
These Philly cheesesteak stuffed buttermilk biscuits are a game day favorite! They put a fun spin on other crowd-pleasing appetizers like my Cheeseburger Sliders (highly recommend) and equally cheesy Chicken Parm Sliders. 
Serve these melty golden hot pockets with other game day snacks like Corn Dog Muffins, Cheesy Pizza Breadsticks, Cheesy Bacon Ranch Bombs, Crab Cake Dip, and Meatball Sub on a Stick. 
These are also great to munch on as a side next to hearty numbers like my Secret Ingredient Turkey Chili, Sloppy Joe Stew, and White Chicken Chili.
Of course, what's a meal of cheesy stuffed biscuits without a little something sweet for dessert? Try my recipes for Extra Thick Chocolate Chip Walnut Cookies or Outrageous Cookies & Cream Cookies! 
How to Store and Reheat Extras
The buttermilk biscuits are at their fluffiest the day they're baked! But if you do wind up with leftovers, store these Philly cheesesteak stuffed biscuits airtight in the fridge for up to 3 days. They can be reheated in the oven for a quick lunch or snack. I like to first wrap the stuffed biscuits in foil, then place them into the oven to warm for 10 minutes at 350ºF. 
You can also reheat them in the microwave, though I find it makes them a bit soggy.
Can I Freeze Stuffed Biscuits?
These biscuits can be frozen for up to one month, either together in a freezer bag or individually wrapped for an on-the-go snack. Thaw the stuffed biscuits in the fridge and then reheat as usual.
---
Description
These Philly Cheesesteak Stuffed Biscuits are tender and melty, juicy and savory, flaky and buttery, and so easy to make for a flavorful dinner or game day snack!
---
4 tablespoons

butter, divided

3/4 cup

diced onion

3/4 cup

diced green bell pepper

1

pound deli roast beef, diced

1 teaspoon

kosher salt

1 teaspoon

fresh ground black pepper

1/2 teaspoon

garlic powder

2 cups

grated Monterey Jack cheese

1

(16- ounce) can of buttermilk biscuits
---
Preheat the oven to 350°F. Line a large baking pan with parchment paper. Place 8 biscuits onto the parchment paper and set aside, allowing the biscuit dough to warm up slightly.
In a large skillet over medium heat melt the butter. Add in the onion and bell pepper and cook until softened, 5 – 6 minutes. Season with salt, pepper, and garlic powder.
Add in the diced roast beef and cook for 1 – 2 minutes until warm. Add in the grated cheese, stir to combine, and the cheese begins to melt. Remove from the heat.
Gently pull each biscuit apart slightly, creating a pocket. Scoop 1/4 cup of the beef mixture into each biscuit. Seal the edges by pinching the dough together. Repeat with remaining biscuits.
Melt the remaining 2 tablespoons of butter in a small bowl. Brush the melted butter on top of the biscuits.
Bake for 17 – 20 minutes until golden brown. Serve warm.
---
Keywords: cheesesteak recipe, game day food, philly steak
Want To Save This Recipe?
Find more recipes like this:
More Game Day Dinner Ideas: